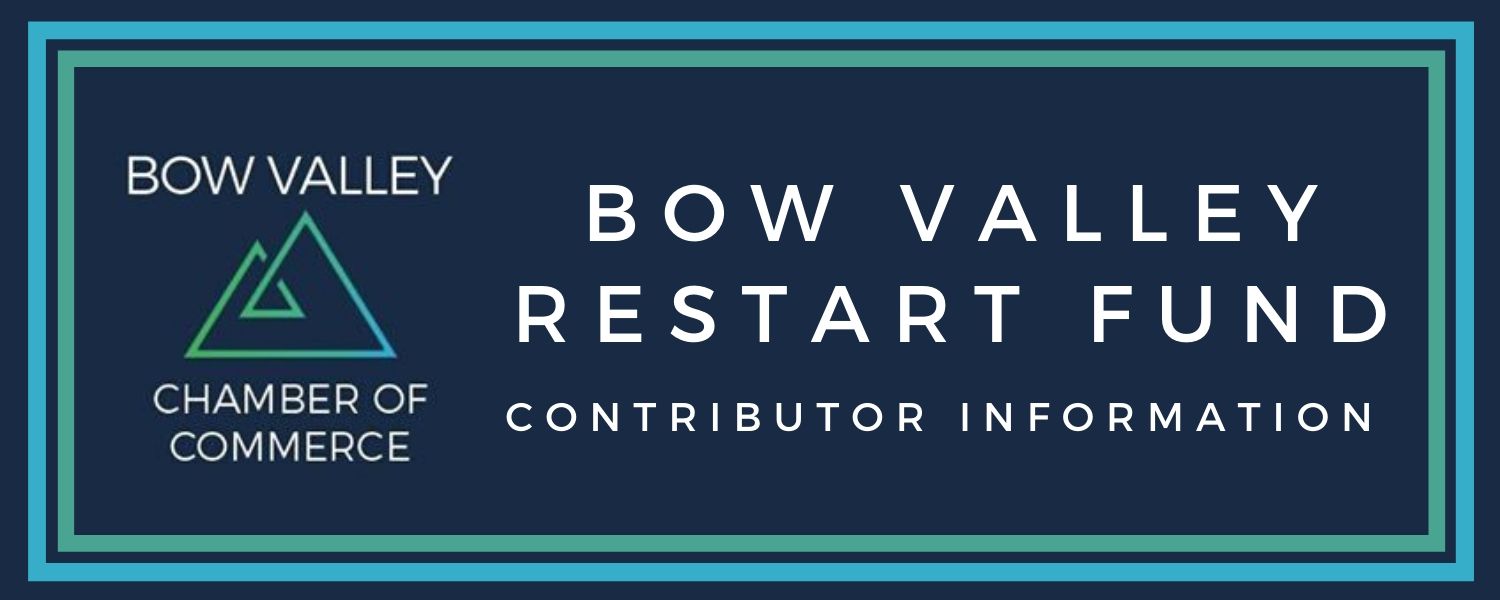 Please note the Bow Valley Chamber of Commerce is not a registered charity and cannot issue a contribution receipt.
All interested contributors are asked to fill out a simple form to confirm details about their contribution amount.
A contribution is a great way to show support for the Bow Valley Business community. Because of contributors like you, funding will go directly to the local businesses that need it the most.
The Bow Valley and the communities within it are unique from elsewhere in Alberta and even in Canada. Located in the Canadian Rockies tourism is the dominant industry that sustains the community's employment and income base and contributes significant tax and other revenues to all three levels of government. While tourism in the Bow Valley sustains local jobs and economic benefits in the immediate area, it also sustains jobs and economic activity in all other regions of Alberta. With the restrictions placed on the tourism industry due to COVID-19 the primary industry and source of economic sustainability has been drastically depleted to the extent businesses in the Bow Valley will be forced to permanently shut their doors.
Quick Facts:
The visitor levels in the Bow Valley far exceed the residents with nearly 30% of the population in Canmore alone being non-permanent population.
63% of Alberta's non-US international travel visits the area spending nearly $330 million dollars (approximately 45% of their spending while they visit Alberta)
In 2015 in Banff and Canmore alone over 1.23 billion dollars in tourism expenditures were generated.
The area made up less than 1% of the provincial population in 2015 but attracted over 10% of all visitors to Alberta.
*Information from Banff, Jasper and Canmore Tourism Economic Impact Study, June 2016, Grant Thornton, WMC and Econometric Research Limited.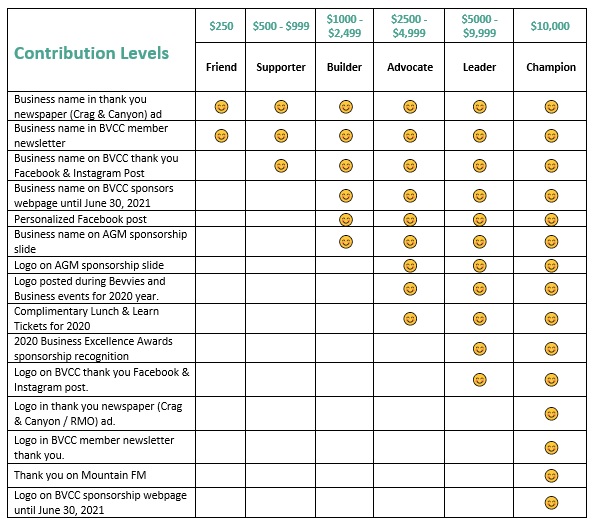 Incentive Program
As a thank you for your contribution and support the BVCC will provide incentives according to amount of contribution.
We Need Your Help!
For businesses in the Bow Valley restart costs were unforeseen due to the sudden and unexpected nature of the COVID-19 pandemic. Upon reopening, businesses are facing additional unexpected costs to ensure the health and safety of patrons and staff. Restart costs include: restocking inventory, hiring new staff, training, purchasing protective equipment, store modifications, and cleaning costs. Businesses are facing the challenge of understanding a new economical landscape. The Bow Valley will one day open to international visitors, and when it does, we need our local business community to be thriving. In order to do this, we need your help.
Please note the Bow Valley Chamber of Commerce is not a registered charity and cannot issue a contribution receipt.