The BVCC is looking for Bow Valley business community sponsors!
Sponsorships are an excellent investment, with the opportunity to increase the profile of your business and to show your support of our amazing Bow Valley business community. With your sponsorship the BVCC will advertise your business through many avenues! Such as, the BVCC newsletter, website, social media channels, Crag & Canyon, Rocky Mountain Outlook, and 106.5 Mountain FM. The Bow Valley Chamber of Commerce will provide incentives according to the amount you decide to contribute toward events and initiatives.
The BVCC is looking for sponsors in the following areas:
- General events: Business Book Club, Bevvies & Business, Conversation Café, Business Boot Camp
- 2022 Business Excellence Awards
- SWAG for the 2022 Business Excellence Awards SWAG bags
CONTACT US TODAY for more info!
Member Service and Experience Survey
As we reflect on the changes COVID-19 has brought upon the world, our country and each other, the Bow Valley Chamber of Commerce (BVCC) would like to make sure we continue to support Bow Valley businesses in a meaningful way. We want to strengthen our member relationships, community partnerships, and the value we deliver.
Our mission is to sustain a successful business community in the Bow Valley by elevating, connecting & advocating for our members. Our vision is where Bow Valley entrepreneurs and businesses grow, network, and find the support needed to thrive and prosper. We continue to stay true to our mission and vision and have increasingly focused on serving Bow Valley businesses in additional ways. We want to maintain this momentum and accelerate it by providing more useful programs and initiatives for our members in 2022 and beyond.
To do so, we would like your feedback and have developed a quick 2-minute survey to capture your evolving business priorities as well as offerings that would make us more valuable to our members as we look to the new year and beyond.
Cheers To You & Entrepreneurship
The Bow Valley Chamber of Commerce (BVCC) is where Bow Valley entrepreneurs and businesses grow, network, and find the support needed to thrive and prosper. The BVCC's mission is to sustain a successful business community in the Bow Valley by Elevating, Connecting and Advocating for our members.
A BVCC membership connects you and your business with other local Bow Valley businesses spanning from Lake Louise to the border of Cochrane.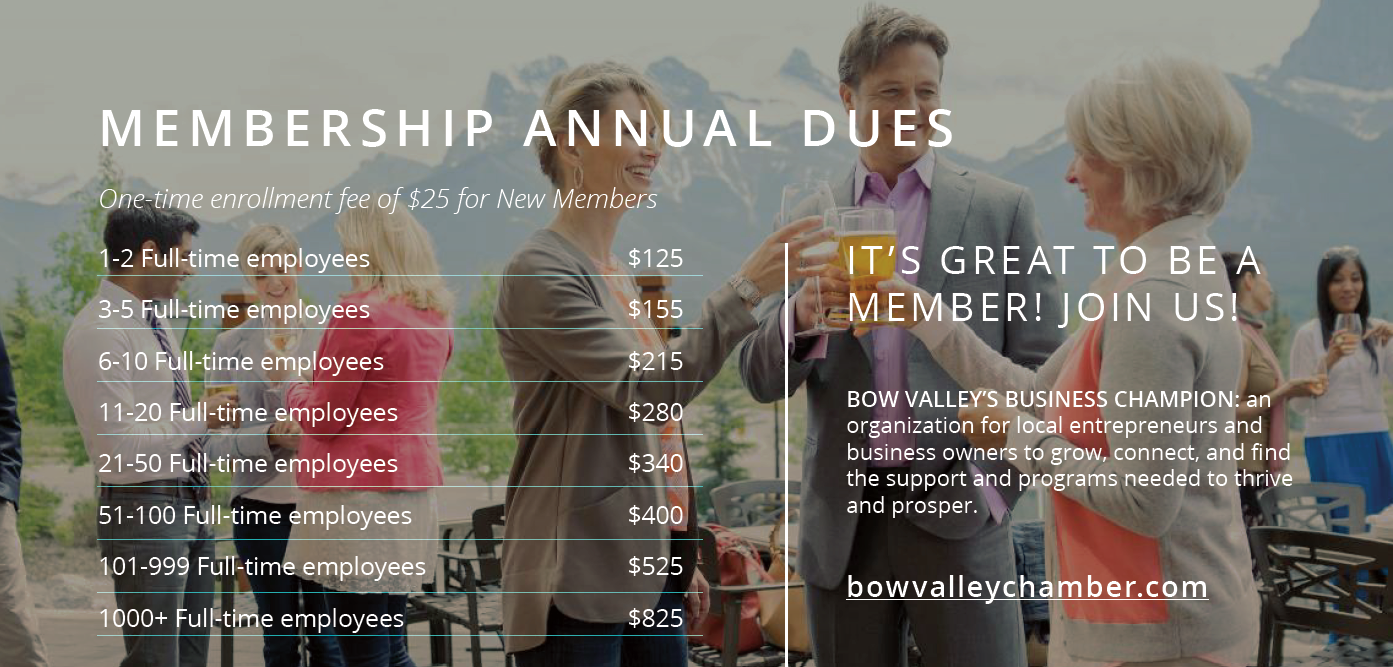 *A yearly affiliation fee of $13.10 (plus tax) is also applied to all BVCC memberships. This fee covers our Alberta Chambers of Commerce & the Canadian Chamber of Commerce membership dues.
*All BVCC membership fees are prorated according to month of membership application.
*One-time enrollment fee of $25.00 (plus tax) for new members.
WHAT IS A CHAMBER OF COMMERCE?
A chamber of commerce is a non-profit, membership driven association that advocates on behalf of the business community in which it serves. In addition, it helps connect and grow the business community through a wide array of networking events, educational seminars, and member only programs and offerings.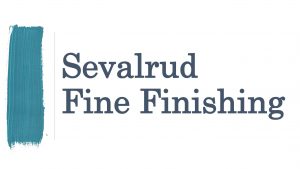 Sevalrud Fine Finishing
Clark Sevalrud is a CPA and comes from an assurance background with KPMG and has worked with a number of high growth startups and is now looking to get back to his contracting roots and enjoy what the Bow Valley has to offer.
Clark is a painter with almost a decade of experience and does drywall installation and repairs along with general handyman work. Clark loves the work, and helping client's visions for their spaces to come true.
You can contact Clark via email at clark@finefinishing.ca
RNEST Endurance is run by Jordan Bryden, Devon Thurlow and our dog Rupert (Chief of Moral Support)  in Canmore, Alberta.
RNEST was created out of a passion for moving with endurance in the great outdoors. The company has a passion for hosting triathlon, running and cycling inspired events and camps. We also have a desire for quality casual apparel that endurance athletes can wear day-to-day. RNEST is proud to bring a selection of simple, comfortable, casual designs to active individuals. We are proud to offer Socially Conscious. Sweatshop Free. Sustainable.  100% Canadian Apparel.
We offer supplemental insurance which is a type of personal coverage designed to fill the gaps and compliment any current coverage that you may have.  Our coverage pays out for a lot of accidents and sicknesses that your current plans likely don't cover.  We have a variety of unique and customizable options to meet your needs, budget and concerns.  We can cover individuals, families and businesses.  Weather you are employed, self employed, a student or retired, we have policies for you!
From newborn to age 85 we cover any occupation ,sport, hobby or activity, anytime - on or off work!
The qualification process is simple! Everyone qualifies for our accident and injury coverage, sickness qualification is simple, no complex medical testing.  Your coverage pays cash directly to you in addition to benefits provided by any other coverage you may have.  There are no waiting periods or deductibles and no premium increases if you make a claim.  We offer individual and family coverage solutions that don't discriminate  Regardless of income, pre-existing conditions, occupation, activity choices, everyone qualifies for an accident policy!   A distinct feature is that premiums never increase based on the amount of claims you make!
CYAN's mission is to strengthen Canmore by connecting young adults (18 to 35) with each other and local resources, while empowering young adult voices.
Canmorites face the highest living wage in Alberta ($37.40 in 2021), yet many young adults are employed in low wage hospitality and service industry jobs.
Therefore, to create an inclusive Canmore where young adults thrive and play an active role in the community, CYAN provides affordable events and access to resources.
CYAN creates amazing events for networking opportunities for young adults. Head on over to there website or check them out on IG or FB!
Marc-Andre Cousineau is a Red Seal certified Sheet Metal worker. As a  small and independent business operator his focus on customer service and quality is unparalleled.
MAC Fans and Furnaces specializes in furnace exchange and custom HVAC installation. Whether you need to replace a bath fan or install duct work for a new build, they will get the job done.
To guarantee customer satisfaction, they  provide  HVAC options based on your individual needs and ensure follow through with service and warranty.
Take A Hike Market, owned by Canmore locals Chef Jonathan Duguay and Amanda Winston, is honored to be the Bow Valley's newest culinary playground. A new food market concept with a variety of delicious offerings and menus. With a passion for exploration, quality, and adventure this new business located in Solara Resort and Spa is going to make your taste buds dance.
Some of their highlights is a Quebecois focused cheese counter, a chef made grab and go line for camping stoves and kitchens alike, and your new favorite made to order menu for takeout. If you love brunch and poutine, amongst other things, stay tuned!