The Bow Valley Chamber of Commerce (BVCC) has partnered with MExit, Town of Canmore Economic Development, and e=mc2 the Centre for Business Excellence to provide the 2022 Peer Mastermind Program. This program is a working group where local entrepreneurs discuss business, life, and balancing the two in an organized way with like-minded individuals. The group will offer a combination of brainstorming, education, peer accountability, and support in a group setting to sharpen business and personal skills. The Peer Mastermind Program helps local entrepreneurs achieve success. Members of the program challenge each other to set strong goals, and more importantly, to accomplish them.
Peer Mastermind Program sessions will be consistently held on the first Wednesday of every month from 7:30-9:00am starting in January 2022. Currently the program is booked for in person sessions at the Malcolm Hotel in Canmore (unless otherwise posted). Sessions will take place in person unless we are unable to do so because of public health guidelines.
Please Note:
Space is limited for the Peer Mastermind Program. The program is designed to support everyone in the group and to introduce local entrepreneurs to each other. In order to benefit from this program, successful applicants will need to be removed from their comfort zone. They must be willing to make new connections and to assist their peers. APPLY TODAY for this excellent professional development and networking opportunity!
Important Application Dates:
• October 15th, 2021 - Peer Mastermind Program application opens
• December 10th, 2021 - Peer Mastermind Program application closes (EXTENDED from Nov. 30)
• December 17th, 2021 - All successful applicants will be notified
*All 10 morning sessions include a hot breakfast and perks!
This Fall Buy It In The Bow And Support Local Businesses!
Follow the Bow Valley Chamber of Commerce on Facebook, Instagram, LinkedIn and YouTube for all things Buy It In The Bow. Read the AWESOME Local Love Letters and view the 10 Bow Valley business video features HERE.
Cheers To You & Entrepreneurship
The Bow Valley Chamber of Commerce (BVCC) is where Bow Valley entrepreneurs and businesses grow, network, and find the support needed to thrive and prosper. The BVCC's mission is to sustain a successful business community in the Bow Valley by Elevating, Connecting and Advocating for our members. A BVCC membership connects you and your business with other local Bow Valley businesses spanning from Kananaskis to Lake Louise.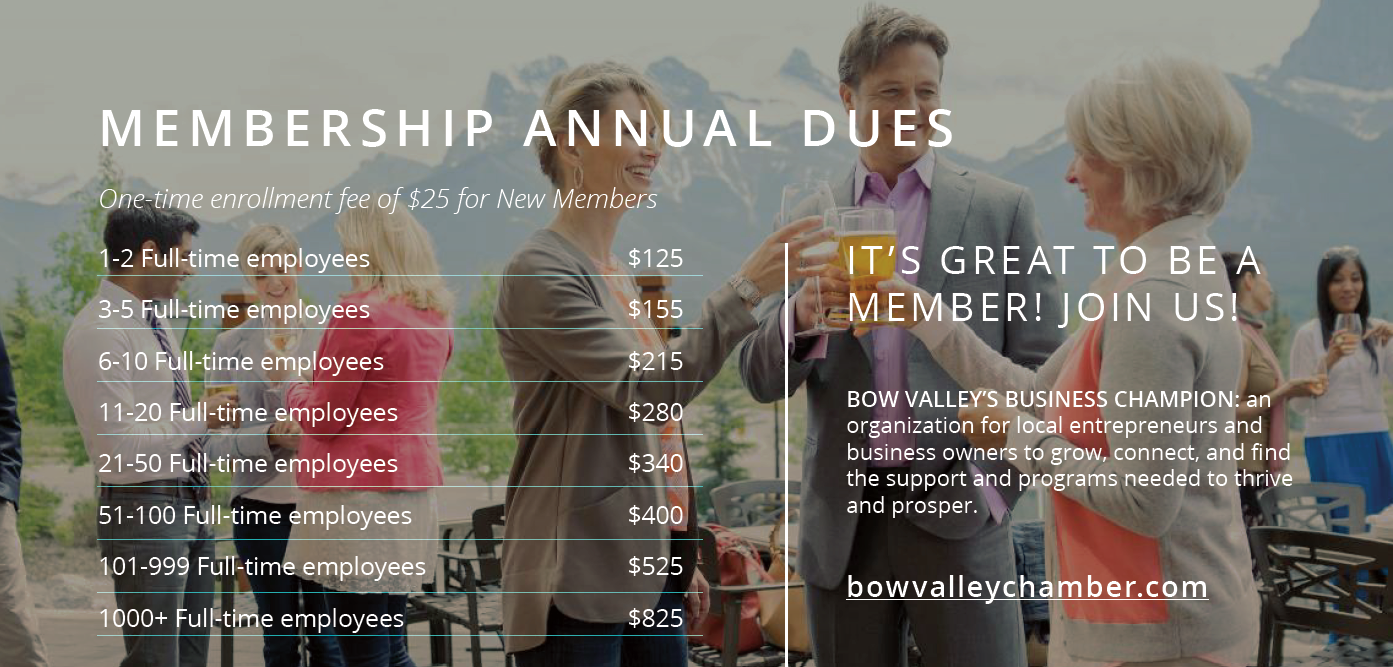 *A yearly affiliation fee of $13.10 (plus tax) is also applied to all BVCC memberships. This fee covers our Alberta Chambers of Commerce & the Canadian Chamber of Commerce membership dues.
*All BVCC membership fees are prorated according to month of membership application.
*One-time enrollment fee of $25.00 (plus tax) for new members.
WHAT IS A CHAMBER OF COMMERCE?
A chamber of commerce is a non-profit, membership driven association that advocates on behalf of the business community in which it serves. In addition, it helps connect and grow the business community through a wide array of networking events, educational seminars, and member reward offerings.
Natural disasters such as wildfires, floods, and droughts, along with economic shocks, political unrest, and armed conflicts are all examples of the multidimensional and complex emergencies that are occurring in the world today. Rebecca Innes Consulting works with both the public and private sectors, government and non-governmental organizations, as well as Indigenous and non-Indigenous communities to innovate, and transform complex problems into sustainable solutions.
Make a digital impact with Analog'Digital a creative agency in the Canadian Rockies focused on building brands and sharing stories. Analog'Digital is founded upon the belief that anything is made possible through collaboration. Everybody's got a story to tell. They are passionate about developing and sharing unique stories and the Analog'Digital team is committed to helping you make an impact. They specialize in website design, social outreach, brand strategy, and local marketing. Contact Analog'Digital today for more information!
Stratton's Jewellery presents a beautiful selection of fine jewellery from specialty designers found only in-store.
Shopping at Stratton's is a one-of-a-kind experience, with each showcase carefully curated to show off the artistry and uniqueness of each designer. Step into a space of fine craftmanship and imagination, only at Stratton's Jewellery.
Owner Dave Stratton is a certified gemologist who has been working in the industry since 1985. From the streets of Santa Monica to bustling downtown Vancouver and the soaring heights of Banff, Dave has been studying gems from around the world in some of its finest stores.
Located in the heart of downtown Canmore, Boulder Menswear is locally owned and operated. This unique menswear store specializes in contemporary fashion for men. Whether you're a trendy or conservative dresser, Boulder Menswear's friendly, knowledgeable, no pressure sales associates will help you find the best look and the right fit - and have some fun while you're at it!
Ellis Financial Group - Scotia Wealth Management is committed to delivering personalized advice through a disciplined investment approach and a culture of professionalism and integrity. Your Wealth Advisor will work with you to determine the right investment strategies to help you invest your hard-earned wealth today and for the future. It starts with Ellis Financial Group - Scotia Wealth Management learning all they can about your financial situation – your current profile, needs, concerns, risk tolerance, tax situation, time horizon, liquidity and return objectives. Their Wealth Advisors have the knowledge and flexibility to offer customized solutions for your wealth management need and goals.
Locally owned and operated Harvest Café's mission is to provide hearty and healthy meals and mouthwatering treats.
Their sauces, soups, and baked goods are made in house, striving to provide the freshest ingredients in all of their products. Gluten Free? Harvest Café's daily house-made soups are GF, with a GF option for grilled wraps and paninis. Not to mention their amazing GF chocolate zucchini loaf. Vegan options are also available!
Plus... Harvest Café has the BEST cinnamon buns this side of the Rockies, only available on the weekend!
Visit Harvest Café today at 2-718 10th Street in Canmore!
Professional Partnerships