June BVCC Conversation Café
COVID-19 Inclusive Recovery and Involvement 
Wednesday June 23rd, 2021 from 8:00-9:00am
Click HERE To Register
Learn how the Banff Canmore Community Foundation (BCCF) builds and stewards a community-held endowment for the benefit of the Bow Valley. As we continue to navigate uncertain and difficult times and begin to reach for an inclusive recovery, the BCCF is helping buffer the challenges and realize the opportunities. Together we can discover how Bow Valley Chamber of Commerce Members can become involved in an inclusive recovery post COVID-19.
Support Local Bow Valley!
The Bow Valley Chamber of Commerce, BOWDA, Town of Canmore, and CanSign Inc. have partnered to do what we do best... Provide support for local businesses through prizes & contests, newspaper ads, and local business features! Please follow the BVCC's Facebook and Instagram pages to view all campaign content and us the hashtags #SupportLocalCanmore, #SupportLocalBanff, & #BuyItInTheBow to participate.
Check out Food For Friends! Local Bow Valley Businesses use a portion of their sales to purchase gift cards from Local Bow Valley Restaurants. These gift cards will be dropped off at the Bow Valley Food Bank, who will issue the gift cards to their Local Clients as part of its regular food hamper program.
The BVCC is extremely proud to have administered the Bow Valley Restart Fund (BVRF). The BVRF provided grants of up to $5,000 to local Bow Valley businesses that had faced unforeseen costs due to the sudden nature of the COVID-19 pandemic. In partnership with the Town of Canmore we were able to distribute $107,725 to financially aid Bow Valley businesses.
Cheers To You & Entrepreneurship
The Bow Valley Chamber of Commerce (BVCC) is where Bow Valley entrepreneurs and businesses grow, network, and find the support needed to thrive and prosper. The BVCC's mission is to sustain a successful business community in the Bow Valley by Elevating, Connecting and Advocating for our members. A BVCC membership connects you and your business with nearly 300 other businesses spanning from Kananaskis to Lake Louise.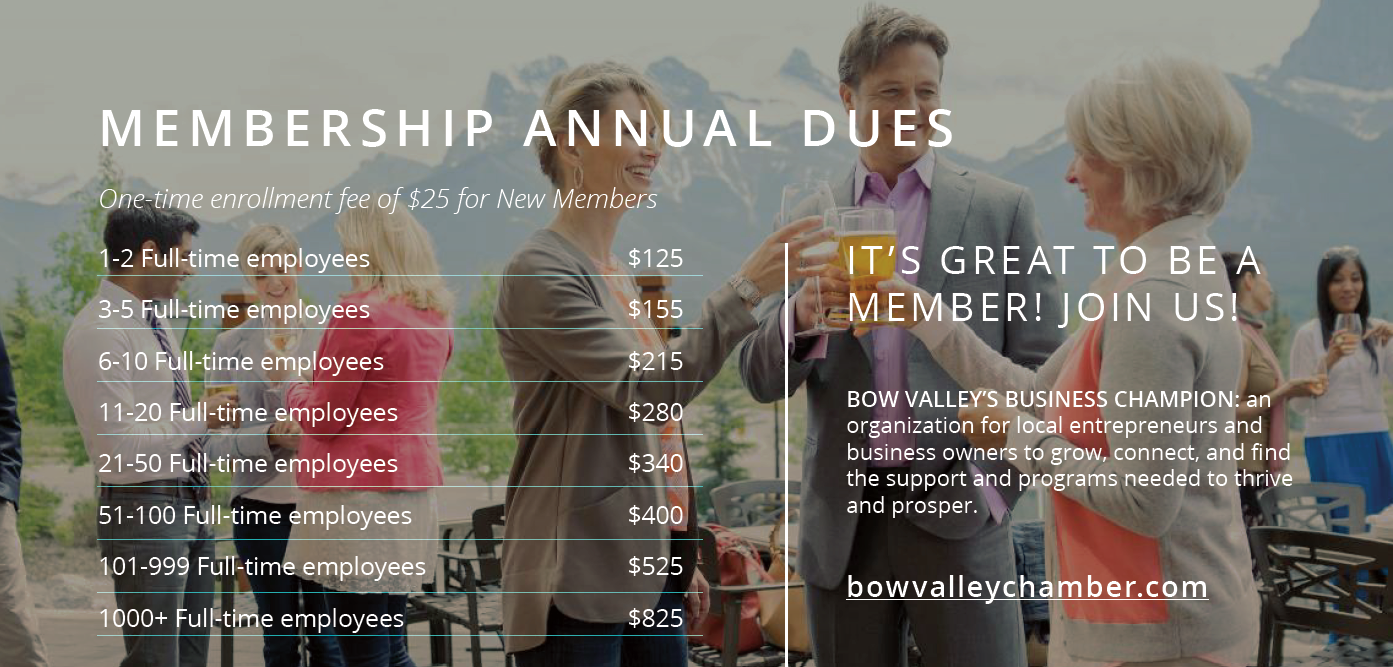 *A yearly affiliation fee of $13.10 (plus tax) is also applied to all BVCC memberships. This fee covers our Alberta Chambers of Commerce & the Canadian Chamber of Commerce membership dues.
*All BVCC membership fees are prorated according to month of membership application.
*One-time enrollment fee of $25.00 (plus tax) for new members.
WHAT IS A CHAMBER OF COMMERCE?
A chamber of commerce is a non-profit, membership driven association that advocates on behalf of the business community in which it serves. In addition, it helps connect and grow the business community through a wide array of networking events, educational seminars, and member reward offerings.
Bow Valley Marketing is a digital marketing agency nestled in the mountains of Canmore, Alberta. Bow Valley Marketing helps local businesses and non-profits optimize their digital marketing and connect with their audiences. Bow Valley Marketing helps businesses or organizations thrive.
With deep roots in marketing and tourism, Bow Valley Marketing understands what it takes to succeed online. Consider them an extension to your team! Bow Valley Marketing can take care of all your marketing so you can focus on running your business. To achieve the best results for your business you need a seasoned expert who understands your industry and is passionate about collaborating with you to grow your business.
Click HERE to connect with Bow Valley Marketing today to find out how they can help you supercharge your digital marketing!
Liberty Clothing's mission is to produce Eco friendly clothing and high-quality products that inspire consumers to make sustainable choices. From t-shirts to pants, they carry a variety of affordable ethical clothing including hemp merchandise. As we grow together as a community and collectively contribute to the care of our environment, Liberty Clothing continues to dedicate time, care, and passion in order to deliver high-quality sustainable clothing. Preserve the globe and protect the future of the environment with affordable ethical clothing at Liberty Clothing!
Visit Liberty Clothing today at 626 Main Street Unit 1, Canmore.
Lovely Ice Cream offers locally made small batch ice cream. Producing joy in pints, cookie sandwiches and cup. These artisan treats are made with real food and they find local ingredients to elevate into ice cream!
Visit https://www.lovelyicecream.ca/home/ for info on flavors, quick orders, and pick up / delivery options!
Established in 1994, Arnica Massage Therapy is located in Canmore, Alberta and operated by Patricia Roozendaal, Registered Massage Therapist.  With over 20 years of experience in the field of massage therapy and being active in many of the sports common to the Canmore community, Patricia has the skill and knowledge to treat your injury.
The Canmore clinic provides therapeutic massage in a safe, comfortable, and relaxing environment.  Operating hours are flexible, so please call or e-mail to book an appointment.
Click HERE to Contact Patricia at Arnica Massage Therapy Today! 
People from around the world come to Canada for many reasons in the pursuit of a betterment for their families and themselves.  Whether it be touring explorations, working holidays, to escape strife and conflict, to escape persecution, pursue business opportunities, enhance education, to re-unite as a family, or just to enjoy a better life. Russell Immigration Services' goal is to help make those plans reality. Russell Immigration Services can help with : Working holiday, Permanent residency, Family Reunification, Refugee claims, Citizenship applications and much more!
Contact Russell Immigration Services today at 403-447-HOME (4663) or admin@russellimmigration.ca