Announcing our new BVCC Strategic Plan! Click the below link to read and please feel free to share within your communities and beyond!
BVCC Association Annual General Meeting
5:30pm – 6:00 pm March 22, 2023, followed by Bevvies & Business 6:00 pm to 7:00 pm
The Alder Café + Grocery Canmore AB, Canada
AGM Agenda:
1. Call to Order. Ben Davis, BVCC President
• Notification regarding quorum requirements
• Motion to approve the agenda
2. Approval of the Minutes
• Motion to approve March 23, 2022, AGM Minutes
3. President's Update
• Update on BVCC happenings, for information only, by BVCC President Ben Davis
4. 2022 Financial Statements
• Presentation
• Questions
5. Board of Directors
• Motion to approve the 2023 BVCC board of directors
6. Adjourn
• Motion to adjourn
The BVCC is looking for Bow Valley business community sponsors!
Sponsorships are an excellent investment, with the opportunity to increase the profile of your business and to show your support of our amazing Bow Valley business community. With your sponsorship the BVCC will advertise your business through many avenues! Such as, the BVCC newsletter, website, social media channels, Crag & Canyon, Rocky Mountain Outlook, and 106.5 Mountain FM. The Bow Valley Chamber of Commerce will provide incentives according to the amount you decide to contribute toward events and initiatives.
The BVCC is looking for sponsors in the following areas:
- General events: Bevvies & Business, Rise & Shine Coffee Connector, Bow Valley Chamber Masterclasses
- November 2, 2023 Business Excellence Awards
- SWAG for the November 2 2023 Business Excellence Awards SWAG bags
CONTACT US TODAY for more info!
Business Excellence Awards Gala will be happening on November 2 2023
More details and registration to come soon, thank you for your patience.
In the mean time check 2021 Business Excellence Awards winners! Congratulation to everyone!
Customer Service
An Edible Life 
Innovation
BVS Canada
Community Impact
Bow Valley Credit Union
Bow Valley Business of the Year
Wolfe Canmore
**Click HERE for more info about the winners **
The Bow Valley Chamber of Commerce (BVCC) is where Bow Valley entrepreneurs and businesses grow, network, and find the support needed to thrive and prosper.
BVCC vison: "To become the best Chamber of Commerce in the world!"
BVCC mission: "We are the voice of Bow Valley business
and the catalyst for business success."
A BVCC membership connects you and your business with other local Bow Valley businesses spanning from Lake Louise to the border of Cochrane.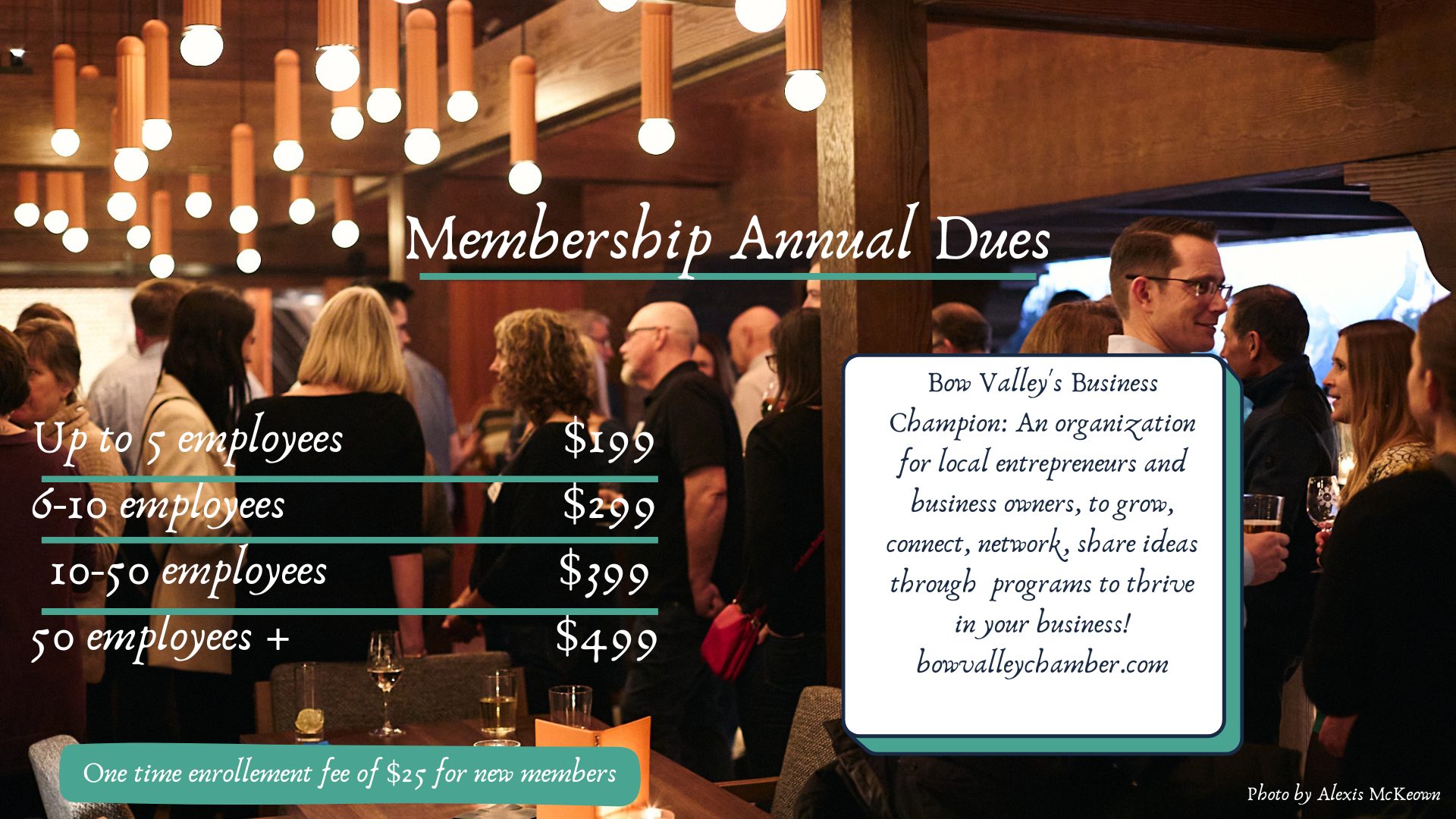 *A yearly affiliation fee of $13.10 (plus tax) is also applied to all BVCC memberships. This fee covers our Alberta Chambers of Commerce & the Canadian Chamber of Commerce membership dues.
*All BVCC membership fees are prorated according to month of membership application.
*One-time enrollment fee of $25.00 (plus tax) for new members.
WHAT IS A CHAMBER OF COMMERCE?
A chamber of commerce is a non-profit, membership driven association that advocates on behalf of the business community in which it serves. In addition, it helps connect and grow the business community through a wide array of networking events, educational seminars, and member only programs and offerings.
At BreakPoint Solutions they are fundamentally driven by a passion to create and support great leadership and organizations, through coaching and consulting.
They work with individuals, teams, and organizations in a wide variety of sectors to:
evaluate performance, provide leadership training and support
develop breakthrough strategies, and
implement solutions that will enable you to meet and exceed your goals both personally and for your business.
BreakPoint Solutions operates from the perspective that every circumstance is unique. That means every solution is customized and no two solutions are alike. Together, you develop YOUR plan, YOUR solution, and YOUR results.
For almost a decade, Melissa has helped hundreds of men and women achieve their health and fitness goals as a personal trainer and nutrition coach.
Melissa is passionate about helping clients create healthy relationships with food and coaching clients to feel more confident with their bodies is one of her favorite things to do.
Through her company, Desire Fitness, Melissa offers private personal training, custom workout programs and diet plans, as well as corporate wellness programs.
Desire Fitness' corporate wellness programs teach employees how to establish healthy physical and mental habits while also developing a strong sense of accomplishment and community within the workplace.
Art of SKIN Dermatology, created under the leadership of Board-Certified Dermatologist, Dr. Paul Lubitz, stands for everything beauty and skin care health. From state-of-the-art technology to cosmetic consultations that focus on patient care and comfort; trust your skin to the Bow Valley skin care specialist. Dr. Paul Lubitz specializes in medical, surgical, cosmetic and phlebology (vein disease) to treat patients skin concerns holistically.
Banff Hospitality Collective or as they like to call it 'BHC', is a multi-concept restaurant and entertainment company with 15 venues and counting. All their venues are unique in their own right but have a few things in common:
1. They are all located in beautiful downtown Banff.
2. Serve amazing food and beverage
3. Have wicked atmospheres powered by even cooler people.
Snap Beauty Mirror Photo Booth based in Canmore, Alberta, Snap Beauty Mirror Photo Booth caters to weddings & events. Snap Beauty specializes in mirror photo booth rentals, a visually stunning option with a LED frame and touch screen gives couples, clients and their guests a high-quality experience.
The dedicated team offers multiple packages and services to help your guests enjoy the red-carpet treatment.
Bodhi Wellness believes our health is our greatest asset, and our most valuable investment. Bodhi Wellness believes strongly in a holistic approach to wellness that goes beyond any singular focus, and our goal is to help individuals and families in Canmore achieve their health potential and be able to enjoy their life to the fullest.
It is their intent to promote awareness that health comes from within, is a dynamic process, and that each person is ultimately responsible for their own health and happiness.
They are here to work alongside you to help you reach your optimal state of wellbeing, to reduce pain, and to keep you functioning at your best.
They want to inspire individuals and families to create powerful, lasting, positive change in their lives, and we believe the best way to do that is through effective treatment, therapeutic connection, and education.
Each and every one of their team lives a lifestyle that embodies these values and is passionate and committed to being an authentic part of your healing journey.
Whether you come in for chiropractic care, massage therapy, facials, or spa, they offer a genuine and personalized approach to care that is designed based on your specific needs and goals.
For local families, we can offer strategic care plans to optimize your healing and allow you to function at your best. If you choose, their Chiropractors, RMTs and Estheticians also work collaboratively to provide comprehensive care from a variety of disciplines.
​For those on vacation, they want to provide you with the best possible healing environment so you can have a unique and memorable spa experience. They will also offer education and advice on how to optimize your health when you're back home.
As a team, their goal is to offer an authentic and honest approach, which delivers an exceptional experience that they would be happy to share with their own family and friends.