The BVCC is looking for Bow Valley business community sponsors!
Sponsorships are an excellent investment, with the opportunity to increase the profile of your business and to show your support of our amazing Bow Valley business community. With your sponsorship the BVCC will advertise your business through many avenues! Such as, the BVCC newsletter, website, social media channels, Crag & Canyon, Rocky Mountain Outlook, and 106.5 Mountain FM. The Bow Valley Chamber of Commerce will provide incentives according to the amount you decide to contribute toward events and initiatives.
The BVCC is looking for sponsors in the following areas:
- General events: Business Book Club, Bevvies & Business, Conversation Café, Business Boot Camp
- 2022 Business Excellence Awards
- SWAG for the 2022 Business Excellence Awards SWAG bags
CONTACT US TODAY for more info!
Member Service and Experience Survey
As we reflect on the changes COVID-19 has brought upon the world, our country and each other, the Bow Valley Chamber of Commerce (BVCC) would like to make sure we continue to support Bow Valley businesses in a meaningful way. We want to strengthen our member relationships, community partnerships, and the value we deliver.
Our mission is to sustain a successful business community in the Bow Valley by elevating, connecting & advocating for our members. Our vision is where Bow Valley entrepreneurs and businesses grow, network, and find the support needed to thrive and prosper. We continue to stay true to our mission and vision and have increasingly focused on serving Bow Valley businesses in additional ways. We want to maintain this momentum and accelerate it by providing more useful programs and initiatives for our members in 2022 and beyond.
To do so, we would like your feedback and have developed a quick 2-minute survey to capture your evolving business priorities as well as offerings that would make us more valuable to our members as we look to the new year and beyond.
Cheers To You & Entrepreneurship
The Bow Valley Chamber of Commerce (BVCC) is where Bow Valley entrepreneurs and businesses grow, network, and find the support needed to thrive and prosper. The BVCC's mission is to sustain a successful business community in the Bow Valley by Elevating, Connecting and Advocating for our members.
A BVCC membership connects you and your business with other local Bow Valley businesses spanning from Lake Louise to the border of Cochrane.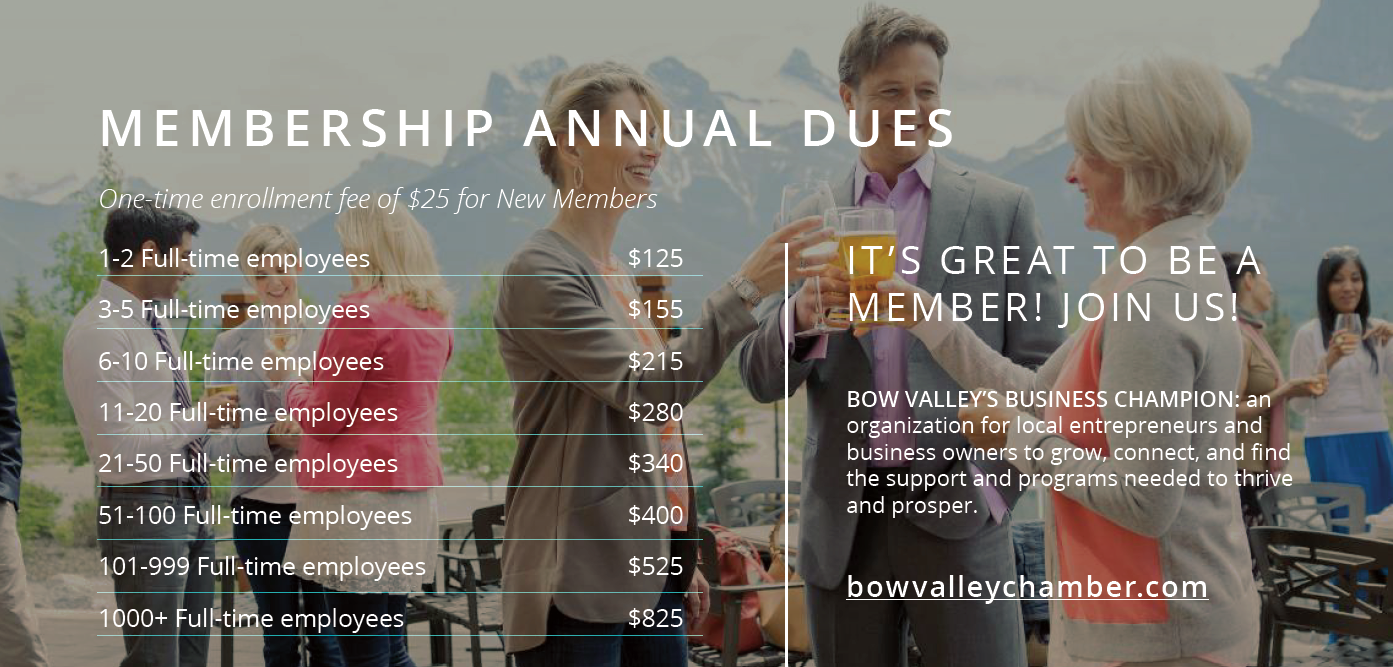 *A yearly affiliation fee of $13.10 (plus tax) is also applied to all BVCC memberships. This fee covers our Alberta Chambers of Commerce & the Canadian Chamber of Commerce membership dues.
*All BVCC membership fees are prorated according to month of membership application.
*One-time enrollment fee of $25.00 (plus tax) for new members.
WHAT IS A CHAMBER OF COMMERCE?
A chamber of commerce is a non-profit, membership driven association that advocates on behalf of the business community in which it serves. In addition, it helps connect and grow the business community through a wide array of networking events, educational seminars, and member only programs and offerings.
Through Judy McLean journey in Spirituality and Metaphysics, she was naturally drawn to Mandalas and then to Sacred Geometry. The precise science of Sacred Geometry appeals to the left brain (logic) and the right brain (intuition) simultaneously. For Judy, creating with this art/science becomes a "creative meditation"--both relaxing and invigorating. In addition, the discovery of inherent proportion, balance and harmony in this art form, can permeate every situation and circumstance of everyday life.
Judy is delighted to share with you her original creations of Mandalas and Sacred geometry. All images are hand drawn using the tools of a compass, straightedge, crayons, felts and inks. Please click here to check out the "Shop" section and more of her website to access your favorite images as prints, cards, coasters and mugs.
​
FLOSS opened in June 2021, in beautiful Banff, Alberta.
Since 2006, dental hygienists in Alberta have been practicing in their own private practices.
This provides the public with the opportunity to choose the dental hygienist
They encourage their clients to see their current dentist for any needed treatment.
Dental hygienists in a traditional dentist practice and private hygiene practice are able to provide the same services.
The College of Registered Dental Hygienists of Alberta inspects, governs, and regulates that all professional standards and infection control requirements are met to ensure the public receives safe and effective oral health care.
Kynox Painting is in the paint and painting industry since 1993 now serving the Bow Valley Banff and some part of B.C interior and exterior painting commercial and residential. All you need for restoring kitchen and bathroom cabinet Stucco removal repair!
The ERL Leather Company is a locally owned and operated, they are based out of their home in the beautiful Rocky Mountains of Canmore Alberta. They strive to create beautiful quality leather goods. By specializing in Custom Creations they can assure that every piece they make is completely one of a kind. For the last few years, they have been honing their craft to bring you the best possible product. Every item is 100% hand made from cutting every individual part and piece to sewing it together, they can ensure that every product created meets my impeccable standards.
Aspen Films provides video production services to Canadians, from individuals, to small businesses, to national associations. The will work with you to make your unique vision come to life; their goal is to help you accomplish your goal. Their team is eager to hear your ideas and use our expertise in filming, editing, drone footage, animation, voiceover, audio, post-production, photography and more to create a video or event that you will love.
Aspen Films' overall approach to any project is to first and foremost ensure they are realizing their clients' vision for the project. From initial concept to final delivery, they will focus on being flexible, accommodating, efficient and professional in the delivery of video production and virtual event production services. They assign an account manager to each client and a project manager to each project in order to ensure effective communication and efficiency is achieved for every job and client, no matter how big or small.
Trillium Home Services is your comfort is Their business!!
Contact them for all your HVAC needs.
Their work speaks for itself.
What's the difference you ask?
They do not let price affect their quality of work;
this is where low prices and high quality meet.