The BVCC is looking for Bow Valley business community sponsors!
Sponsorships are an excellent investment, with the opportunity to increase the profile of your business and to show your support of our amazing Bow Valley business community. With your sponsorship the BVCC will advertise your business through many avenues! Such as, the BVCC newsletter, website, social media channels, Crag & Canyon, Rocky Mountain Outlook, and 106.5 Mountain FM. The Bow Valley Chamber of Commerce will provide incentives according to the amount you decide to contribute toward events and initiatives.
The BVCC is looking for sponsors in the following areas:
- General events: Business Book Club, Bevvies & Business, Bow Valley Chamber Masterclasses, Speaker Series
- 2022 Business Excellence Awards
- SWAG for the 2022 Business Excellence Awards SWAG bags
CONTACT US TODAY for more info!
Member Service and Experience Survey
As we reflect on the changes COVID-19 has brought upon the world, our country and each other, the Bow Valley Chamber of Commerce (BVCC) would like to make sure we continue to support Bow Valley businesses in a meaningful way. We want to strengthen our member relationships, community partnerships, and the value we deliver.
Our mission is to sustain a successful business community in the Bow Valley by elevating, connecting & advocating for our members. Our vision is where Bow Valley entrepreneurs and businesses grow, network, and find the support needed to thrive and prosper. We continue to stay true to our mission and vision and have increasingly focused on serving Bow Valley businesses in additional ways. We want to maintain this momentum and accelerate it by providing more useful programs and initiatives for our members in 2022 and beyond.
To do so, we would like your feedback and have developed a quick 2-minute survey to capture your evolving business priorities as well as offerings that would make us more valuable to our members as we look to the new year and beyond.
The Bow Valley Chamber of Commerce (BVCC) is where Bow Valley entrepreneurs and businesses grow, network, and find the support needed to thrive and prosper. The BVCC's mission is to sustain a successful business community in the Bow Valley by Elevating, Connecting and Advocating for our members.
A BVCC membership connects you and your business with other local Bow Valley businesses spanning from Lake Louise to the border of Cochrane.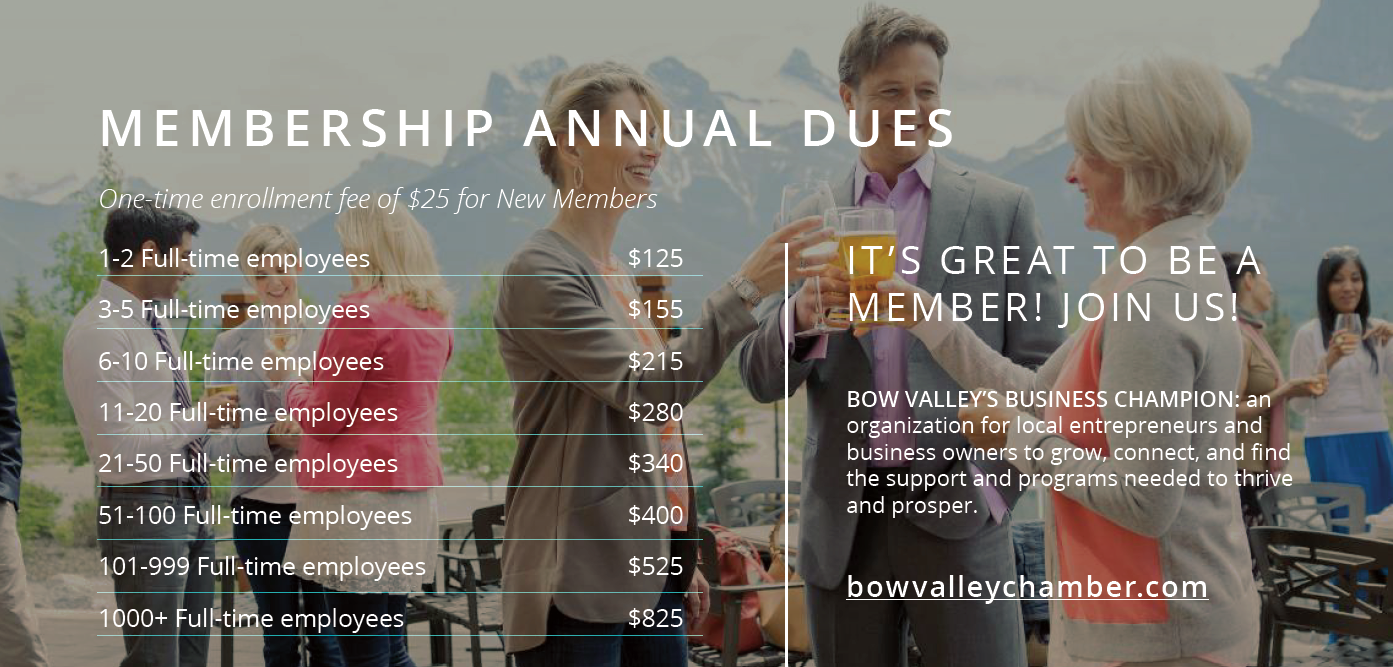 *A yearly affiliation fee of $13.10 (plus tax) is also applied to all BVCC memberships. This fee covers our Alberta Chambers of Commerce & the Canadian Chamber of Commerce membership dues.
*All BVCC membership fees are prorated according to month of membership application.
*One-time enrollment fee of $25.00 (plus tax) for new members.
WHAT IS A CHAMBER OF COMMERCE?
A chamber of commerce is a non-profit, membership driven association that advocates on behalf of the business community in which it serves. In addition, it helps connect and grow the business community through a wide array of networking events, educational seminars, and member only programs and offerings.
At the JESSICA STONER Real Estate Team, it's about you. We are a Team of experienced, licensed agents who know Canmore.
Jessica leads the team to deliver detailed local knowledge, sharp negotiating skills and thorough communication with our clients.
We love our work, and are passionate about serving our clients! Oh, and mountain biking. Lots and lots of mountain biking.
The Alder Cafe & Grocery blurs the lines between an old fashioned corner grocery store, a farmers market, a butcher, and a cafe that sells provisions, house made "seed to table" take-away foods and market cuisine with a culinary tourist atmosphere.
Shopping at the Alder Grocery is a culinary journey and exploration of our local bounty. We also stock everyday food and beverage items too!
Gold Chalk Interiors is a bespoke interior design company located in Canmore, Alberta led by Darla Reynolds.
Our interior designers specialize in creating original, functional and beautiful spaces. Our team is invested in designing an elegant residential or commercial space that focuses on form and function while encompassing your personal design aesthetic.
Gold Chalk Interiors' experienced design team is passionate about understanding your vision and bringing it to fruition through transparency, professionalism, and clear communication; curating your space into a place of luxury comforts.
WildHeart is a space for movement located in downtown Canmore, AB. They offer a variety of yoga and barre classes designed with the active and adventurous in mind.
At WildHeart we are wanderers, we are passionate about new adventure, and we seek to find ways to keep moving. We believe that maintaining movement promotes a balanced and healthy life. Whether you are an experienced yogi or have never stepped foot in a group fitness setting WildHeart has something for you.
Stop by to check out our locally designed merchandise, curated selection of great brands, including Routine and lululemon, catch a class or stay home and use our outstanding selection of online content. No matter how you join the WildHeart community you will feel the love, joy and connection that is the heart of all that we do. 
Jaime Birch is an independent graphic designer working with Brand Identity, Logo Design, Print Marketing and Package Design.
She has worked with a number of businesses locally and you can see much of her work displayed by businesses throughout the Bow Valley!
Jaime believes in digging down to really grasp who her clients are and understand what they want the expression of their brand to be. She uses this to build the foundation for each project.
She works together with her clients to mold and shape their ideas, and what was once an abstract idea becomes a visible product!
Albertans helping Albertans is at the core of everything the Alberta Cancer Foundation does. Our very purpose comes from our desire to create more moments for all Albertans facing cancer, no matter where they live or the type of cancer they are facing. As the fundraising partner for the 17 Alberta Health Services cancer center's, from the Canmore mountains to the canola fields in Lloydminster, we make life better for Albertans facing cancer by supporting world-class research and patient care, right here in our own backyard, keeping cancer care close to home.