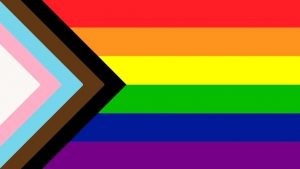 The Bow Valley Chamber of Commerce proudly stands in solidarity with our LGTBQIA2S+ residents and visitors who make the Bow Valley a more inclusive, and diverse place to call home. We all belong. We are all valuable members of the Bow Valley and beyond.
Love is love. Hate and discrimination are not tolerated by our organization.
The BVCC is looking for Bow Valley business community sponsors!
Sponsorships are an excellent investment, with the opportunity to increase the profile of your business and to show your support of our amazing Bow Valley business community. With your sponsorship the BVCC will advertise your business through many avenues! Such as, the BVCC newsletter, website, social media channels, Crag & Canyon, Rocky Mountain Outlook, and 106.5 Mountain FM. The Bow Valley Chamber of Commerce will provide incentives according to the amount you decide to contribute toward events and initiatives.
The BVCC is looking for sponsors in the following areas:
- General events: Business Book Club, Bevvies & Business, Conversation Café, Business Boot Camp
- 2022 Business Excellence Awards
- SWAG for the 2022 Business Excellence Awards SWAG bags
CONTACT US TODAY for more info!
Member Service and Experience Survey
As we reflect on the changes COVID-19 has brought upon the world, our country and each other, the Bow Valley Chamber of Commerce (BVCC) would like to make sure we continue to support Bow Valley businesses in a meaningful way. We want to strengthen our member relationships, community partnerships, and the value we deliver.
Our mission is to sustain a successful business community in the Bow Valley by elevating, connecting & advocating for our members. Our vision is where Bow Valley entrepreneurs and businesses grow, network, and find the support needed to thrive and prosper. We continue to stay true to our mission and vision and have increasingly focused on serving Bow Valley businesses in additional ways. We want to maintain this momentum and accelerate it by providing more useful programs and initiatives for our members in 2022 and beyond.
To do so, we would like your feedback and have developed a quick 2-minute survey to capture your evolving business priorities as well as offerings that would make us more valuable to our members as we look to the new year and beyond.
Cheers To You & Entrepreneurship
The Bow Valley Chamber of Commerce (BVCC) is where Bow Valley entrepreneurs and businesses grow, network, and find the support needed to thrive and prosper. The BVCC's mission is to sustain a successful business community in the Bow Valley by Elevating, Connecting and Advocating for our members.
A BVCC membership connects you and your business with other local Bow Valley businesses spanning from Lake Louise to the border of Cochrane.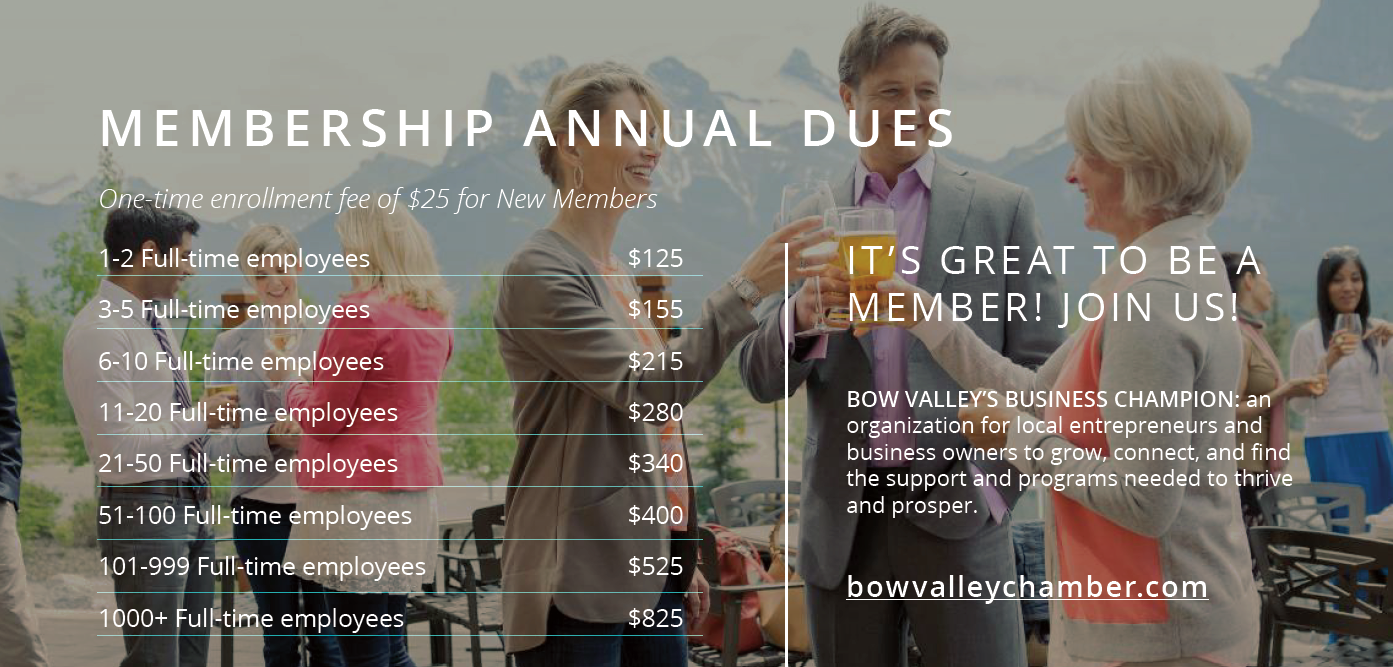 *A yearly affiliation fee of $13.10 (plus tax) is also applied to all BVCC memberships. This fee covers our Alberta Chambers of Commerce & the Canadian Chamber of Commerce membership dues.
*All BVCC membership fees are prorated according to month of membership application.
*One-time enrollment fee of $25.00 (plus tax) for new members.
WHAT IS A CHAMBER OF COMMERCE?
A chamber of commerce is a non-profit, membership driven association that advocates on behalf of the business community in which it serves. In addition, it helps connect and grow the business community through a wide array of networking events, educational seminars, and member only programs and offerings.
Marc-Andre Cousineau is a Red Seal certified Sheet Metal worker. As a  small and independent business operator his focus on customer service and quality is unparalleled.
MAC Fans and Furnaces specializes in furnace exchange and custom HVAC installation. Whether you need to replace a bath fan or install duct work for a new build, they will get the job done.
To guarantee customer satisfaction, they  provide  HVAC options based on your individual needs and ensure follow through with service and warranty.
Take A Hike Market, owned by Canmore locals Chef Jonathan Duguay and Amanda Winston, is honored to be the Bow Valley's newest culinary playground. A new food market concept with a variety of delicious offerings and menus. With a passion for exploration, quality, and adventure this new business located in Solara Resort and Spa is going to make your taste buds dance.
Some of their highlights is a Quebecois focused cheese counter, a chef made grab and go line for camping stoves and kitchens alike, and your new favorite made to order menu for takeout. If you love brunch and poutine, amongst other things, stay tuned!
Located in the heart of Canmore, Bow Valley Partners in Grime was established more that 6 years ago, and has flourished over the years due to it's fantastic team of grime fighters!
With over 10 years of industry experience, founder and owner Suzanne Soltes, knows the business, like nobody's business.
"Leave the dirty work to us" Suzanne and team says. This moto became the company's motto to reflect the philosophy and it provides the direction for everything they do.
Whether it's their approach to cleaning, or the way their clients, and employees are treated, it's all about having the best team in the business!
Truesdale Financial Group are an independent wealth management firm with over 20 years of developing comprehensive strategies for our clients.  Employing our proprietary wealth management process, they build customized plans designed to meet each client's unique objectives, ensuring integration of investment, tax, estate, risk, and retirement issues.
Relationships with their clients are based on trust and integrity ensuring that your unique needs and desires are articulated and realized. They deliver solutions that bring you peace of mind regarding your financial future.
Through Judy McLean journey in Spirituality and Metaphysics, she was naturally drawn to Mandalas and then to Sacred Geometry. The precise science of Sacred Geometry appeals to the left brain (logic) and the right brain (intuition) simultaneously. For Judy, creating with this art/science becomes a "creative meditation"--both relaxing and invigorating. In addition, the discovery of inherent proportion, balance and harmony in this art form, can permeate every situation and circumstance of everyday life.
Judy is delighted to share with you her original creations of Mandalas and Sacred geometry. All images are hand drawn using the tools of a compass, straightedge, crayons, felts and inks. Please click here to check out the "Shop" section and more of her website to access your favorite images as prints, cards, coasters and mugs.
​
FLOSS opened in June 2021, in beautiful Banff, Alberta.
Since 2006, dental hygienists in Alberta have been practicing in their own private practices.
This provides the public with the opportunity to choose the dental hygienist
They encourage their clients to see their current dentist for any needed treatment.
Dental hygienists in a traditional dentist practice and private hygiene practice are able to provide the same services.
The College of Registered Dental Hygienists of Alberta inspects, governs, and regulates that all professional standards and infection control requirements are met to ensure the public receives safe and effective oral health care.