 BVCC March Business Book Club!
Wednesday March 24th, 2021 From 5:30-7:00pm
*Event link provided upon registration via email
Click HERE To Register
Join us for BVCC Business Book Club on March 24th, where we'll be talking about Wolf Pack by Abby Wambach. Based on her inspiring, viral 2018 commencement speech to Barnard College's graduates in New York City, New York Times bestselling author, two-time Olympic gold medalist and FIFA World Cup champion Abby Wambach delivers her empowering rally cry for women to unleash their individual power, unite with their pack, and emerge victorious together.
Local business owner and BVCC Member, Kristy Wolfe from Kristy Wolfe Photography is our host!
March's Pick:
Wolf Pack: How to come together, unleash our power, and change the game.
Author: Abby Wambach 
Haven't read the book? Don't let that stop you from coming to hear more about it, this is a perfect book to intro our new platform, as the conversation surrounding the book may be just as beneficial as reading the book.
Want to #buyitinthebow? Purchase your book locally at Café Books for a 10% discount! The first 3 purchases get a free Café Books reusable tote bag! Use "Bow Valley Chamber of Commerce Business Book Club" for discount in store. 10% discount only available for instore purchase at Café Books.
BVCC Business Book Club Testimonials: 
"It was great. It's been a funny year; really hard to connect. This is a nice space to have and to chat with some people."

Laura Dowling - Canadian Rockies Experience
"For someone who didn't read the book, this was awesome!"

Heather Johnson  - The Bear Minimum
2021 Bow Valley Chamber Of Commerce Member Service And Growth Survey
As we reflect on the changes 2020 has brought upon the world, our country and each other, the Bow Valley Chamber of Commerce (BVCC) would like to make sure we continue to support Bow Valley businesses in a meaningful way. We want to strengthen our relationship with you and the value we deliver.
Our mission is to sustain a successful business community in the Bow Valley by elevating, connecting & advocating for our members. We have increasingly focused on serving Bow Valley businesses in additional ways. We want to maintain that momentum and accelerate it.
To do that, we have developed a quick 5 question 3 minute survey to capture your evolving business priorities as well as offerings that would make us more valuable to you as we look towards 2021 and beyond. In appreciation for completing this survey you will be entered into a draw to win a 2022 Membership & a 2021 BVCC Business Book Club Starter Pack. Thank you.
The Bow Valley Chamber of Commerce, BOWDA, Town of Canmore, and CanSign Inc. have partnered to do what we do best... Provide support for local businesses through prizes & contests, newspaper ads, and local business features! Please follow the BVCC's Facebook and Instagram pages to view all campaign content and us the hashtags #SupportLocalCanmore, #SupportLocalBanff, & #BuyItInTheBow to participate.
We are all connected! How does your business support other Bow Valley businesses? Please CONTACT US to let us know! The BVCC would love to highlight your stories and connections on Facebook and Instagram.
The BVCC is extremely proud to have administered the Bow Valley Restart Fund (BVRF). The BVRF provided grants of up to $5,000 to local Bow Valley businesses that had faced unforeseen costs due to the sudden nature of the COVID-19 pandemic. In partnership with the Town of Canmore we were able to distribute $107,725 to financially aid Bow Valley businesses.
Cheers To You & Entrepreneurship
The Bow Valley Chamber of Commerce (BVCC) is where Bow Valley entrepreneurs and businesses grow, network, and find the support needed to thrive and prosper. The BVCC's mission is to sustain a successful business community in the Bow Valley by Elevating, Connecting and Advocating for our members. A BVCC membership connects you and your business with nearly 300 other businesses spanning from Kananaskis to Lake Louise.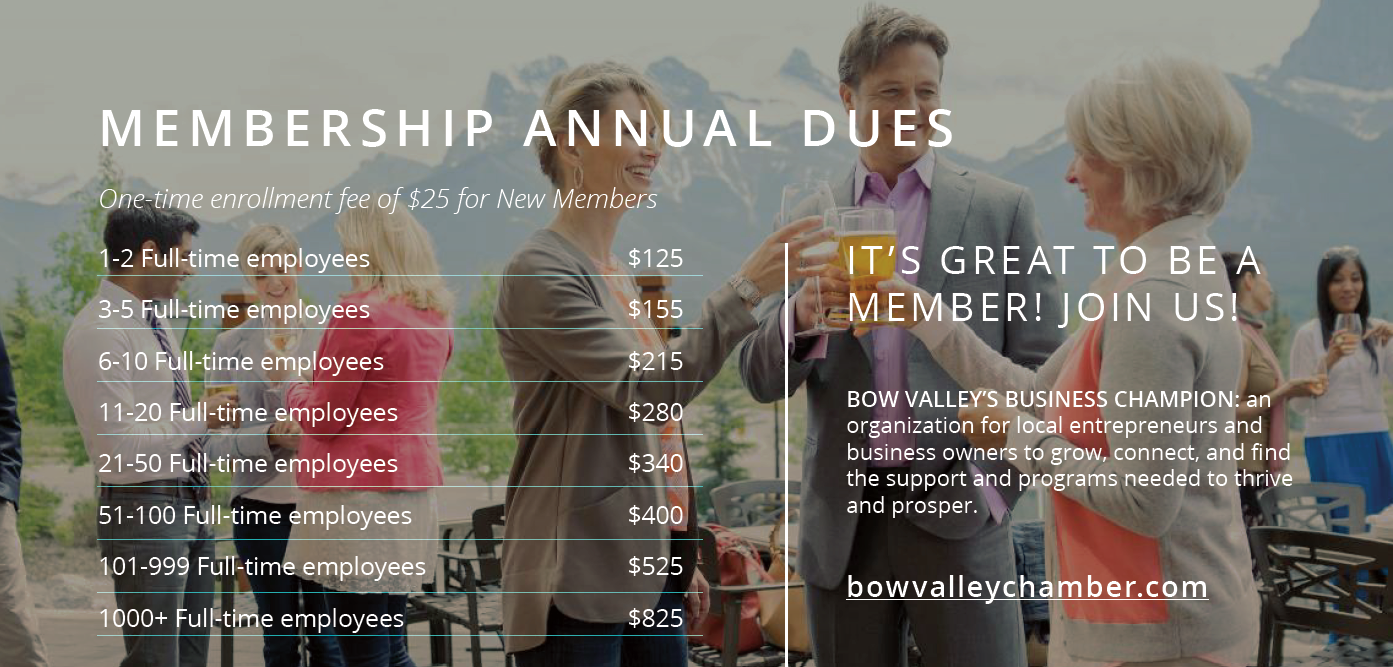 *A yearly affiliation fee of $13.10 (plus tax) is also applied to all BVCC memberships. This fee covers our Alberta Chambers of Commerce & the Canadian Chamber of Commerce membership dues.
*All BVCC membership fees are prorated according to month of membership application.
*One-time enrollment fee of $25.00 (plus tax) for new members.
WHAT IS A CHAMBER OF COMMERCE?
A chamber of commerce is a non-profit, membership driven association that advocates on behalf of the business community in which it serves. In addition, it helps connect and grow the business community through a wide array of networking events, educational seminars, and member reward offerings.
Applications will open March 22, 2021
Based on the success of the first round of the SMARTstart program, we are happy to announce that we will be running it again this year in partnership with the Town of Canmore!
Throughout COVID-19, business-owners have demonstrated their creativity and ability to pivot. This creative spirit is also brewing in the next generation of entrepreneurs with creative ideas ready to launch.
To revitalize the strength of our economy, we will need entrepreneurs to step forward to be part of our new future, and we want to help them be prepared to meet the unique financial risks of this time. That is why we are running another class of SMARTstart.
This eight-month business training program includes training and mentorship with local business owners and is designed for local small business owners in their first three years of operating or entrepreneurs with a big idea to transform into action.
Application deadline May 9, 2021
Shotover Cleaning Your Eco-Friendly Commercial Carpet Cleaning in Canmore, AB!
Shotover Cleaning provides professional carpet cleaning, using as little water usage as possible, ensuring that your carpets are dry within 1-2 hours. You will find that your carpets are revitalized, thoroughly cleaned, and have minimal disruption to your business. The husband and wife duo, are passionate about serving and engaging our community in and around Canmore, and they look forward to helping you feel proud of your carpets!
Call Nathan today at (587) 807-0996 or book an appointment easily online https://shotover.ca/ 
Alpine Doors is a locally owned & operated overhead garage door company - specializing in residential, commercial and custom designs. Based in Canmore Alberta.
Contact Alpine Doors today!
Call: (403) 609-5577 Email:info@alpinedoors.ca or check them out on Facebook
If you have allergy and asthma concerns or you're looking to improve indoor air quality for your property, you can trust the professionals at Canmore's CleanAire 2000. Locally owned and operated, providing residential, commercial and industrial properties with duct and furnace cleaning, repairs and maintenance. CleanAire 2000's trained technicians are equipped with the latest tools and high-end vac trucks to ensure you're getting the most professional service possible. They pride themselves on attention to detail and will take their time to ensure that they thoroughly remove all dust, dirt and allergens. For more than 16 years, CleanAire 2000's commitment to customer satisfaction has allowed them to build a reputation based on professionalism, honesty and integrity.