The BVCC is looking for Bow Valley business community sponsors!
Sponsorships are an excellent investment, with the opportunity to increase the profile of your business and to show your support of our amazing Bow Valley business community. With your sponsorship the BVCC will advertise your business through many avenues! Such as, the BVCC newsletter, website, social media channels, Crag & Canyon, Rocky Mountain Outlook, and 106.5 Mountain FM. The Bow Valley Chamber of Commerce will provide incentives according to the amount you decide to contribute toward events and initiatives.
The BVCC is looking for sponsors in the following areas:
- General events: Business Book Club, Bevvies & Business, Conversation Café, Business Boot Camp
- 2022 Business Excellence Awards
- SWAG for the 2022 Business Excellence Awards SWAG bags
CONTACT US TODAY for more info!
Member Service and Experience Survey
As we reflect on the changes COVID-19 has brought upon the world, our country and each other, the Bow Valley Chamber of Commerce (BVCC) would like to make sure we continue to support Bow Valley businesses in a meaningful way. We want to strengthen our member relationships, community partnerships, and the value we deliver.
Our mission is to sustain a successful business community in the Bow Valley by elevating, connecting & advocating for our members. Our vision is where Bow Valley entrepreneurs and businesses grow, network, and find the support needed to thrive and prosper. In 2021 we have stayed true to our mission and vision and have increasingly focused on serving Bow Valley businesses in additional ways. We want to maintain this momentum and accelerate it by providing more useful programs and initiatives for our members in 2022 and beyond.
To do so, we would like your feedback and have developed a quick 2-minute survey to capture your evolving business priorities as well as offerings that would make us more valuable to our members as we look to the new year and beyond. Cheers to you and entrepreneurship!
The Bow Valley Chamber of Commerce (BVCC) has partnered with MExit, Town of Canmore Economic Development, and e=mc2 the Centre for Business Excellence to provide the 2022 Peer Mastermind Program. This program is a working group where local entrepreneurs discuss business, life, and balancing the two in an organized way with like-minded individuals. The group will offer a combination of brainstorming, education, peer accountability, and support in a group setting to sharpen business and personal skills. The Peer Mastermind Program helps local entrepreneurs achieve success. Members of the program challenge each other to set strong goals, and more importantly, to accomplish them.
Peer Mastermind Program sessions will be consistently held on the first Wednesday of every month from 7:30-9:00am starting in January 2022. Currently the program is booked for in person sessions at the Malcolm Hotel in Canmore (unless otherwise posted). Sessions will take place in person unless we are unable to do so because of public health guidelines.
Please Note:
Space is limited for the Peer Mastermind Program. The program is designed to support everyone in the group and to introduce local entrepreneurs to each other. In order to benefit from this program, successful applicants will need to be removed from their comfort zone. They must be willing to make new connections and to assist their peers.
*All 10 morning sessions include a hot breakfast and perks!
Cheers To You & Entrepreneurship
The Bow Valley Chamber of Commerce (BVCC) is where Bow Valley entrepreneurs and businesses grow, network, and find the support needed to thrive and prosper. The BVCC's mission is to sustain a successful business community in the Bow Valley by Elevating, Connecting and Advocating for our members.
A BVCC membership connects you and your business with other local Bow Valley businesses spanning from Lake Louise to the border of Cochrane.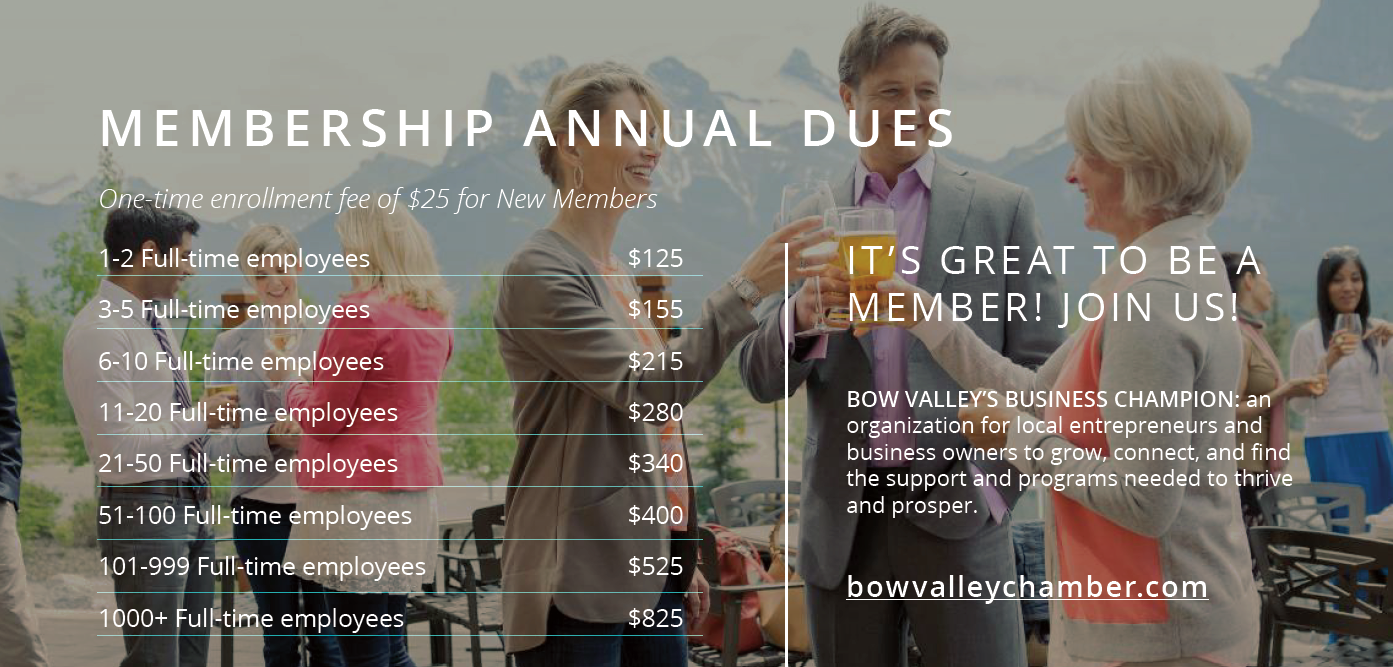 *A yearly affiliation fee of $13.10 (plus tax) is also applied to all BVCC memberships. This fee covers our Alberta Chambers of Commerce & the Canadian Chamber of Commerce membership dues.
*All BVCC membership fees are prorated according to month of membership application.
*One-time enrollment fee of $25.00 (plus tax) for new members.
WHAT IS A CHAMBER OF COMMERCE?
A chamber of commerce is a non-profit, membership driven association that advocates on behalf of the business community in which it serves. In addition, it helps connect and grow the business community through a wide array of networking events, educational seminars, and member only programs and offerings.
Scale Naturally believes that as a heart centered entrepreneur, your business is a vehicle for your purpose, your vision and the impact you're here to create. The ways you work with clients are to be designed to truly serve and to facilitate the deepest and most meaningful impact you're capable of. Which often requires some out-of-the-box creativity as a cookie cutter business model likely won't work for you.
Scale Naturally helps you fulfill your purpose and scale your business naturally by tapping into unique combination of gifts you have inside. To create success you're meant for, your way.
Bow Valley Computers Inc. prides itself on providing cost effective IT solutions to small & medium sized businesses, together with home users, throughout Canmore, Banff & beyond. They provide computer support, optimization & configuration, network & server design, support & development, data backup solutions, secure remote support, and administration.
Alair Homes is an award-winning custom home build and renovation company helping individuals and families enjoy happier, healthier, more productive and more comfortable lifestyles.
Their philosophy is very simple; as they want to get on the same side of the table as their clients and become completely unified in the goal of achieving an incredible product, on time and on budget. Alair Homes knows that there is only one way to do that – with transparency, a lot of thorough planning up front, and truly superior management systems for executing seamless projects. Every detail of their business as it relates to each project is an open book to their clients. Budgets, trade quotes, trade contracts, material costs, absolutely everything. What they see is what you see.
The Roaring Rolls or TRR aims to raise the pedestal of Indian cuisines by not only introducing its "fine dine" nature but also mastering the skills of molecular gastronomy. Their sole purpose is to give a new definition and recognition to the Indian food. The Roaring Rolls introduced the Bow Valley to an amalgamation of Indian street food with a twist of fusion inspired from the world around. Visit their restaurant in the Shops of Canmore today!
Tara Oland, Associate - Royal LePage Solutions has nearly 20 years of professional experience working in Human Resources and Labour Relations within both the government and private sectors. Tara brings a wealth of knowledge and experience working with contracts, policy, and legislation, plus an extensive and diverse skill set to Real Estate. Offering a high level of professionalism, integrity, hard work, and dedication to her clients. Tara works diligently, providing excellent communication and strong attention to detail -- all resulting in top notch client service, client confidence, and peace of mind that each real estate transaction will proceed smoothly.
Cravings Gelato is a Banff-based business founded in 2011. Charlynn's passion for gelato first started in Italy, and from day one she knew she would be creating Ice Cream with Romance.
She is often asked, what makes gelato different from ice cream. It comes down to two simple factors, less fat & less air. It is a slow-to-melt milkiness that is rich in taste & flavour.
It is truly Ice Cream with Romance!
Barks Canada Tours was created as a place for dogs and their adventurous owners to come and explore the incredible Canadian Rockies together.
Imagine having the chance to hike up a mountain, jump into a glacier fed lake or take a picture together in an unforgettable place. These, and many more, are the experiences that Barks Canada Tours want everyone to have with their amazing companions!
Visit https://www.barkscanada.ca/ to book and learn more about their adventures. And if you have some time, check out their Instagram page where they post stunning pics of our backyard!