Announcing our new BVCC Strategic Plan! Click the below link to read and please feel free to share within your communities and beyond!
The BVCC is looking for Bow Valley business community sponsors!
Sponsorships are an excellent investment, with the opportunity to increase the profile of your business and to show your support of our amazing Bow Valley business community. With your sponsorship the BVCC will advertise your business through many avenues! Such as, the BVCC newsletter, website, social media channels, Crag & Canyon, Rocky Mountain Outlook, and 106.5 Mountain FM. The Bow Valley Chamber of Commerce will provide incentives according to the amount you decide to contribute toward events and initiatives.
The BVCC is looking for sponsors in the following areas:
- General events: Bevvies & Business, Rise & Shine Coffee Connector, Bow Valley Chamber Masterclasses
CONTACT US TODAY for more info!
The Bow Valley Chamber of Commerce (BVCC) is where Bow Valley entrepreneurs and businesses grow, network, and find the support needed to thrive and prosper.
BVCC vison: "To become the best Chamber of Commerce in the world!"
BVCC mission: "We are the voice of Bow Valley business
and the catalyst for business success."
A BVCC membership connects you and your business with other local Bow Valley businesses spanning from Lake Louise to the border of Cochrane.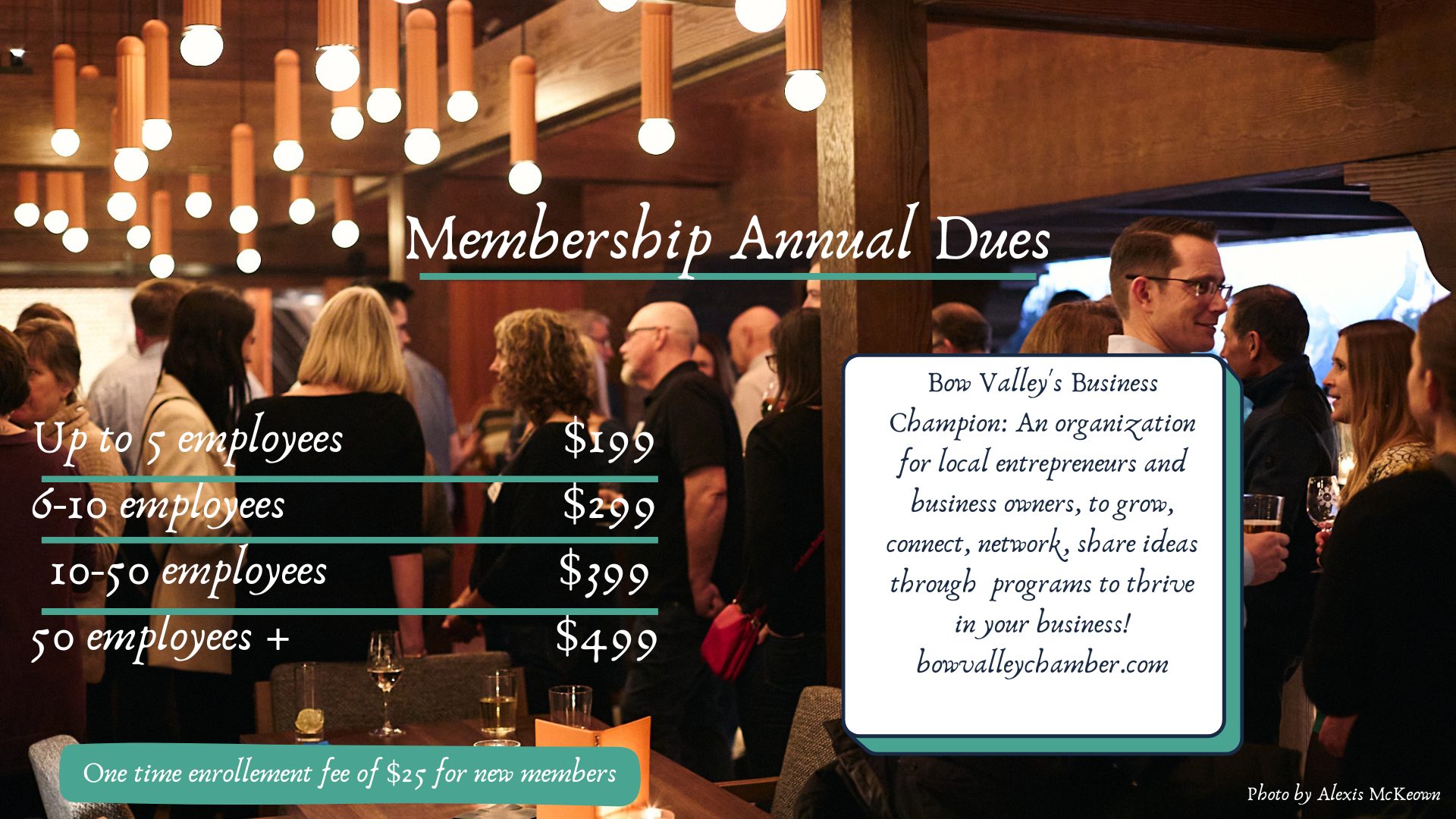 *A yearly affiliation fee of $13.10 (plus tax) is also applied to all BVCC memberships. This fee covers our Alberta Chambers of Commerce & the Canadian Chamber of Commerce membership dues.
*One-time enrollment fee of $25.00 (plus tax) for new members.
WHAT IS A CHAMBER OF COMMERCE?
A chamber of commerce is a non-profit, membership driven association that advocates on behalf of the business community in which it serves. In addition, it helps connect and grow the business community through a wide array of networking events, educational seminars, and member only programs and offerings.
The Howl Experience is a Canmore-based non-profit who creates experiential learning programs that foster relationships between youth, communities, and ecosystems. Since incorporating in 2022, they have supported over 200 youth from across Canada to attend 5-day to 4-month long programs in the Bow Valley on Treaty 7 Territory, the Yukon on the traditional territories of the 14 First Nations of the region, and Nova Scotia / Mi'kma'ki.
As one of their Howlers (or participants), Logan, put it best: "Howl teaches community by creating it, it teaches leadership by giving the space for leaders to arise, it teaches reconciliation by building genuine relationships. Howl really hasn't taught me anything, but through my time in Howl, I've learned a great deal. That's the hope, not to be taught but to learn, to experience, and to see the world as it really is."
Walsh LLP isn't just a law firm. It is a group of likeminded, passionate professionals who are dedicated to people, solutions, and connecting the two with each other.
With over 60 years of experience and deep roots in the Calgary area, we pride ourselves in being not just a business, but a part of the community.
Their human-centric approach means we provide each and every client with the unique attention and respect they deserve because while the law is part of our everyday experience, this may not be the case for our clients, and we are here to make sure the law is straight-forward and approachable.
From businesses seeking advice on a cross-section of legal issues to individuals looking for help with a singular matter, we strive to ensure every interaction with Walsh LLP is focused on providing real, relatable, and practical legal advice.
Big Bear Trading Company is a mountain lifestyle brand inspired by the magnificence of the Canadian Rockies. Locally owned and operated, Big Bear Trading Company opened our first location in June 2021 in Banff and our second location in Canmore in October 2022, our stores and products are designed to stand out from the crowd, but most importantly to reflect the beautiful mountain surroundings that we call home.
Featuring carefully curated collection of products we believe we have something for everyone, whether that be from the local artists' selection, mountain inspired gifts and home goods, or our Big Bear Trading Company branded apparel in adults and kids, Big Bear Trading Company is a must stop destination in the Bow Valley.
You know there are no shortcuts to quality content marketing. That's why your standards for outsourced content are high. Their mission is to rise to the challenge.
At Scribe National, we partner with B2B companies to create high-quality messaging, strategies and long-form content that build credibility, trust and your sales pipeline. Their boutique content studio's journalistic approach and research-driven process are central to getting you results.
They've had the pleasure of providing B2B content strategy and writing services to over 80 clients worldwide in 4 years — the majority being repeat customers — including tech unicorns like Pipe, Retool and Wealthsimple, and others among Canada's 50 fastest-growing companies like TouchBistro.
Cam Clark Ford Canmore has been a family owned and operated business since 2016. But did you know, the Clark family history in the automotive industry had its beginnings well before 1987? The family business is now managed by the 4th generation of automotive industry experts. And it has always been blue, Ford blue.
Friendly. Fun. Professional. They are all about providing the best deal, outstanding service, and year-round peace of mind. We have been voted best of the Bow for dealership needs and continue to serve the amazing people in the Bow Valley.
You will find a variety of personalities at Cam Clark Ford Canmore, and because of this, there is usually someone there that fits with any customer. It is the variety of personalities that enhance the experience for their customer, and our customers like that.
If you ask their staff what it is that makes our business unique, the answers follow a similar theme. The work environment is friendly, we are all part of a big family who genuinely care about one another, and we are empowered to make a difference.
Mel is a professional makeup artist based in Canmore, Alberta, Canada.
The art of water colour painting has been her inspiration for a fresh natural makeup look. She got her start in the wedding industry in 2007 when she painted her Mothers face. Years later she is still passionate about working with brides to make their wedding day dream looks a reality.
When she relocated to Canmore from Calgary in 2014, she joined a community of vendors, working alongside some of the best wedding planners, photographers, hair stylists, and florists in Alberta.
With over 20 years of experience as a makeup artist combined with her love of the mountains, she continues to grow her small business in the Canadian Rockies.
Rock and Rose is 100% Metis owned and operated.