April Business Book Club 
Wednesday April 21st, 2021 from 5:30-7:00pm
Click HERE To Register
The Four Hour Work Week by Tim Ferriss
Join us with a beverage and a snack from a local Bow Valley Business!
Want to #buyitinthebow? Purchase your book locally at Café Books for a 10% discount! Use "Bow Valley Chamber of Commerce Business Book Club" for discount in store. 10% discount only available for instore purchase at Café Books.
More info about April's pick:
Ferriss developed the ideas present in The 4-Hour Workweek while working 14-hour days at his sports nutrition supplement company, BrainQUICKEN. Frustrated by the overwork and lack of free time, Ferriss took a 3-week sabbatical to Europe. During that time and continued travels throughout Europe, Asia, and South America, Ferriss developed a streamlined system of checking email once per day and outsourcing small daily tasks to virtual assistants. His personal escape from a workaholic lifestyle was the genesis of the book.
The format of The 4-Hour Workweek took shape during a series of lectures Ferriss delivered on high-tech entrepreneurship at Princeton University, his alma mater. The lectures (and book) described Ferriss' own experiences in company automation and lifestyle development.
All are welcome and invite a friend!
2021 Bow Valley Chamber Of Commerce Member Service And Growth Survey
As we reflect on the changes 2020 has brought upon the world, our country and each other, the Bow Valley Chamber of Commerce (BVCC) would like to make sure we continue to support Bow Valley businesses in a meaningful way. We want to strengthen our relationship with you and the value we deliver.
Our mission is to sustain a successful business community in the Bow Valley by elevating, connecting & advocating for our members. We have increasingly focused on serving Bow Valley businesses in additional ways. We want to maintain that momentum and accelerate it.
To do that, we have developed a quick 5 question 3 minute survey to capture your evolving business priorities as well as offerings that would make us more valuable to you as we look towards 2021 and beyond. In appreciation for completing this survey you will be entered into a draw to win a 2022 Membership & a 2021 BVCC Business Book Club Starter Pack. Thank you.
Support Local Bow Valley!
The Bow Valley Chamber of Commerce, BOWDA, Town of Canmore, and CanSign Inc. have partnered to do what we do best... Provide support for local businesses through prizes & contests, newspaper ads, and local business features! Please follow the BVCC's Facebook and Instagram pages to view all campaign content and us the hashtags #SupportLocalCanmore, #SupportLocalBanff, & #BuyItInTheBow to participate.
Check out Food For Friends! Local Bow Valley Businesses use a portion of their sales to purchase gift cards from Local Bow Valley Restaurants. These gift cards will be dropped off at the Bow Valley Food Bank, who will issue the gift cards to their Local Clients as part of its regular food hamper program.
The BVCC is extremely proud to have administered the Bow Valley Restart Fund (BVRF). The BVRF provided grants of up to $5,000 to local Bow Valley businesses that had faced unforeseen costs due to the sudden nature of the COVID-19 pandemic. In partnership with the Town of Canmore we were able to distribute $107,725 to financially aid Bow Valley businesses.
Applications are OPEN!
Based on the success of the first round of the SMARTstart program, we are happy to announce that we will be running it again this year in partnership with the Town of Canmore!
Throughout COVID-19, business-owners have demonstrated their creativity and ability to pivot. This creative spirit is also brewing in the next generation of entrepreneurs with creative ideas ready to launch.
To revitalize the strength of our economy, we will need entrepreneurs to step forward to be part of our new future, and we want to help them be prepared to meet the unique financial risks of this time. That is why we are running another class of SMARTstart.
This eight-month business training program includes training and mentorship with local business owners and is designed for local small business owners in their first three years of operating or entrepreneurs with a big idea to transform into action.
Application deadline May 9, 2021
Cheers To You & Entrepreneurship
The Bow Valley Chamber of Commerce (BVCC) is where Bow Valley entrepreneurs and businesses grow, network, and find the support needed to thrive and prosper. The BVCC's mission is to sustain a successful business community in the Bow Valley by Elevating, Connecting and Advocating for our members. A BVCC membership connects you and your business with nearly 300 other businesses spanning from Kananaskis to Lake Louise.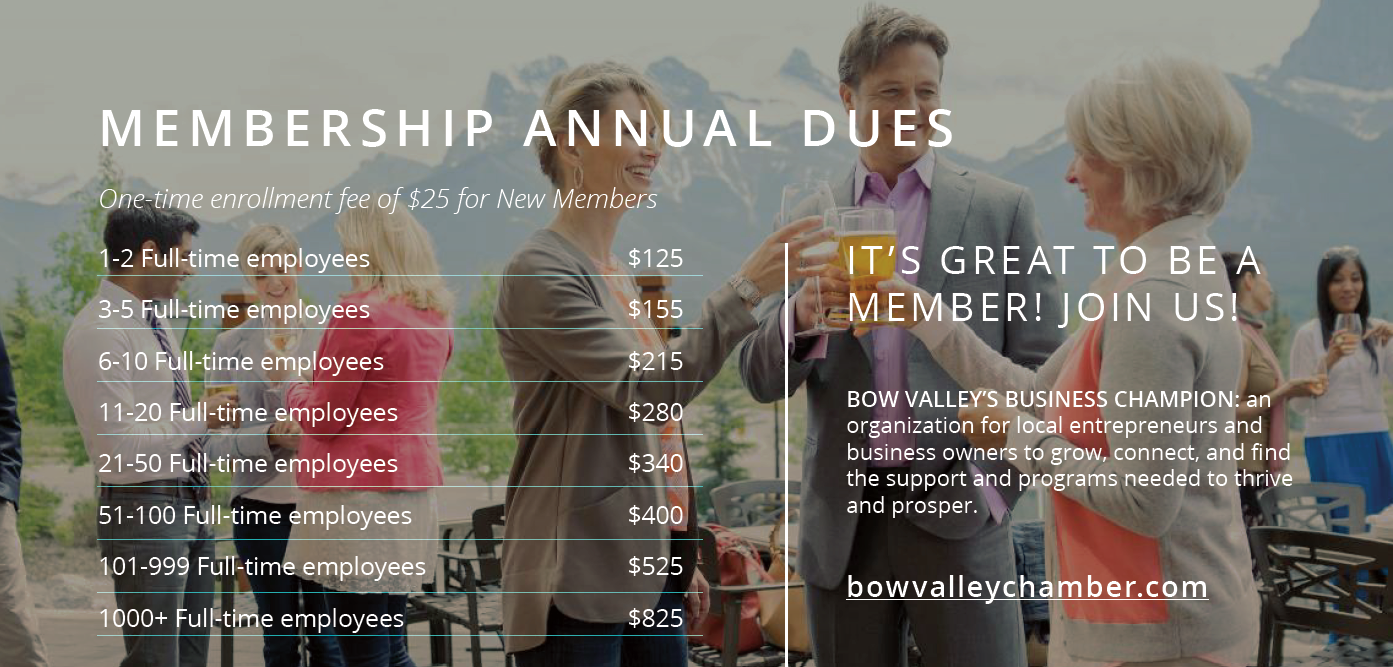 *A yearly affiliation fee of $13.10 (plus tax) is also applied to all BVCC memberships. This fee covers our Alberta Chambers of Commerce & the Canadian Chamber of Commerce membership dues.
*All BVCC membership fees are prorated according to month of membership application.
*One-time enrollment fee of $25.00 (plus tax) for new members.
WHAT IS A CHAMBER OF COMMERCE?
A chamber of commerce is a non-profit, membership driven association that advocates on behalf of the business community in which it serves. In addition, it helps connect and grow the business community through a wide array of networking events, educational seminars, and member reward offerings.
Jan Cerny entered the real estate industry in 1989. As a private investment advisor, he raised millions of dollars for real estate projects in Canada and the United States, including Arizona, New Mexico, and Texas. Today, he is a thriving Realtor®  in Canmore, Alberta, and  is still involved with a large private residential project in Calgary as a General Partner.
Jan is confident that you will take advantage of the combination of experience and attention to detail that comes from his background in engineering. For both buyers and sellers, Jan offers radical transparency, an unwavering work ethic, and strong negotiation skills.
Serving the Bow Valley since 2010 Pro Image Signs & Printing has gained a reputation as a trusted partner to many local organizations & businesses. They provide full-service printing and signs in Banff, Canmore and the surrounding area. Their fleet of large-format printers has the capability to do anything from signs and banners to photography and artwork. They also have the capability to do small format printing from business cards and postcards to booklets and brochures. Contact Pro Image Signs & Printing today at 403-763-2010.
Via Ferrata Experts specializes in the planning and construction of via ferrata (cable-assisted climbing) and rope bridges of any kind. The company, which operates worldwide, is comprised of a group of mountain guides and a machine fitter, who is exclusively responsible for the planning and assembly of rope bridges.
Visit www.via-ferrata-experts.com to learn more about their team and projects!
"We're selling fun"
Family owned and operated, Unlimited Skate & Snow works hard to provide something unique to meet people's needs. Unlimited strives to provide carefully selected goods, from top brands, for snowboarders, skateboarders and those who just want to look great. But more than that, it is a lifestyle store that supports a mountain culture focused on the outdoors and healthy living.
Banff Location: 319 Banff Avenue 403.762.3725 Banff@unltd.ca Open Daily: 10:00am - 8:00pm
Canmore Location: 801 Main Street 403.678.6605 Canmore@unltd.ca Open Daily: 10:00am - 6:00pm
Pop in and visit both of UNLTD's location's today!
Shotover Cleaning Your Eco-Friendly Commercial Carpet Cleaning in Canmore, AB!
Shotover Cleaning provides professional carpet cleaning, using as little water usage as possible, ensuring that your carpets are dry within 1-2 hours. You will find that your carpets are revitalized, thoroughly cleaned, and have minimal disruption to your business. The husband and wife duo, are passionate about serving and engaging our community in and around Canmore, and they look forward to helping you feel proud of your carpets!
Call Nathan today at (403) 678 8575 or book an appointment easily online at https://shotover.ca/