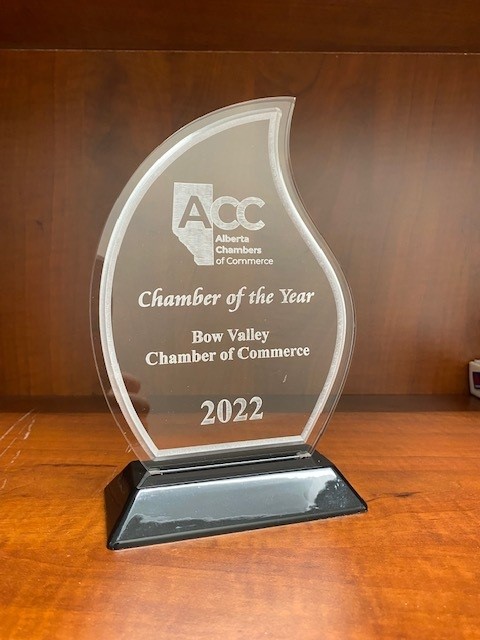 BVCC has something to celebrate and share with you!
Alberta Chamber of Commerce recognizes the 2022 Chamber of the year between 200-499 members.
The winner of this category sets goals and then charges to meet them. They are building trusting relationships with members, listening, adding value to our membership continuously, connection, sold out networking events! and advocating for our members.
BIG thank you to all of our BVCC members and community for making this award possible! We are full of so much gratitude and honoured to recieve the ACC Chamber of the year award!
With big-hearted gratitude,
BVCC
Announcing our new BVCC Strategic Plan! Click the below link to read and please feel free to share within your communities and beyond!
The BVCC is looking for Bow Valley business community sponsors!
Sponsorships are an excellent investment, with the opportunity to increase the profile of your business and to show your support of our amazing Bow Valley business community. With your sponsorship the BVCC will advertise your business through many avenues! Such as, the BVCC newsletter, website, social media channels, Crag & Canyon, Rocky Mountain Outlook, and 106.5 Mountain FM. The Bow Valley Chamber of Commerce will provide incentives according to the amount you decide to contribute toward events and initiatives.
The BVCC is looking for sponsors in the following areas:
- General events: Bevvies & Business, Rise & Shine Coffee Connector, Bow Valley Chamber Masterclasses
- November 2, 2023 Business Excellence Awards
- SWAG for the November 2 2023 Business Excellence Awards SWAG bags
CONTACT US TODAY for more info!
Business Excellence Awards Gala will be happening on November 2 2023
More details and registration to come soon, thank you for your patience.
In the mean time check 2021 Business Excellence Awards winners! Congratulation to everyone!
Customer Service
An Edible Life 
Innovation
BVS Canada
Community Impact
Bow Valley Credit Union
Bow Valley Business of the Year
Wolfe Canmore
**Click HERE for more info about the winners **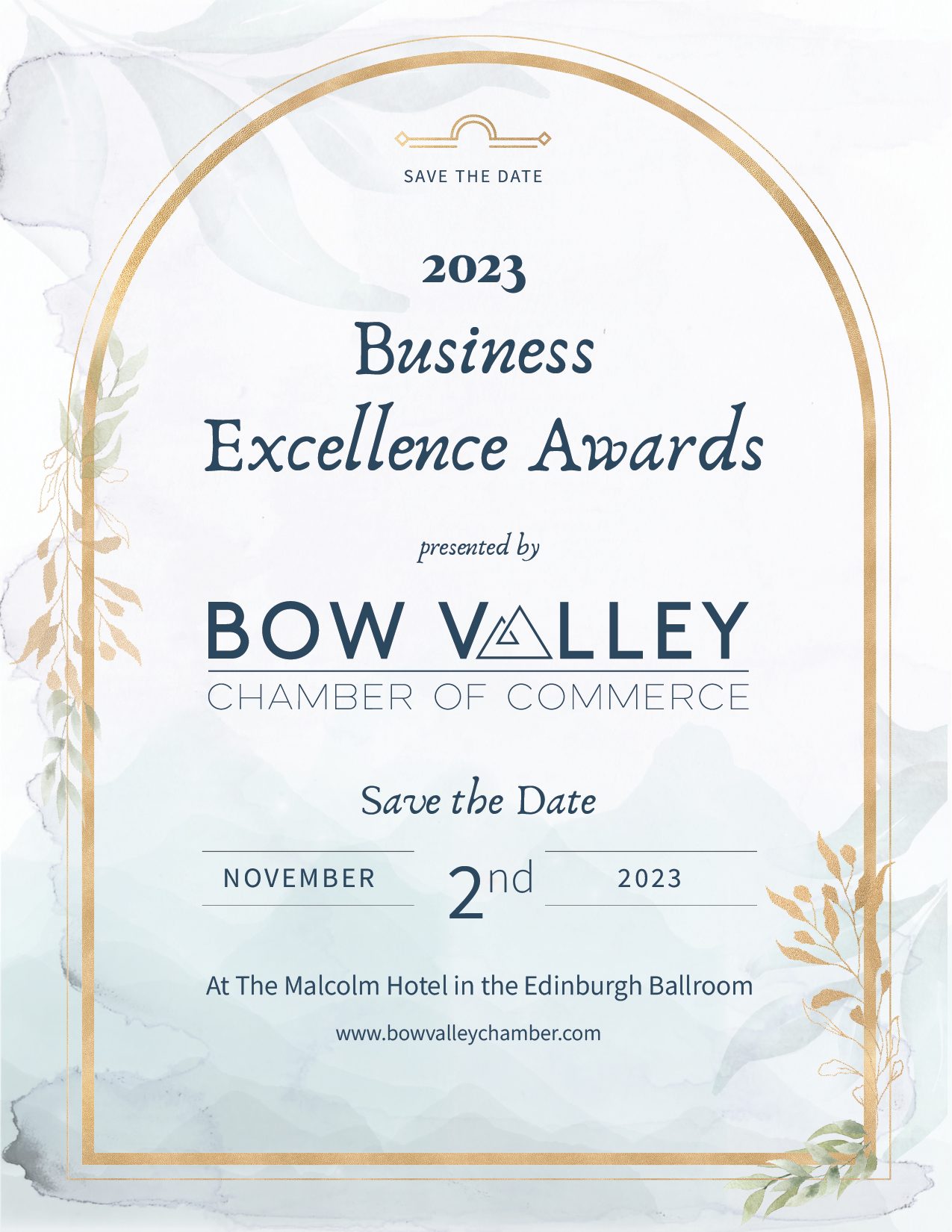 The Bow Valley Chamber of Commerce (BVCC) is where Bow Valley entrepreneurs and businesses grow, network, and find the support needed to thrive and prosper.
BVCC vison: "To become the best Chamber of Commerce in the world!"
BVCC mission: "We are the voice of Bow Valley business
and the catalyst for business success."
A BVCC membership connects you and your business with other local Bow Valley businesses spanning from Lake Louise to the border of Cochrane.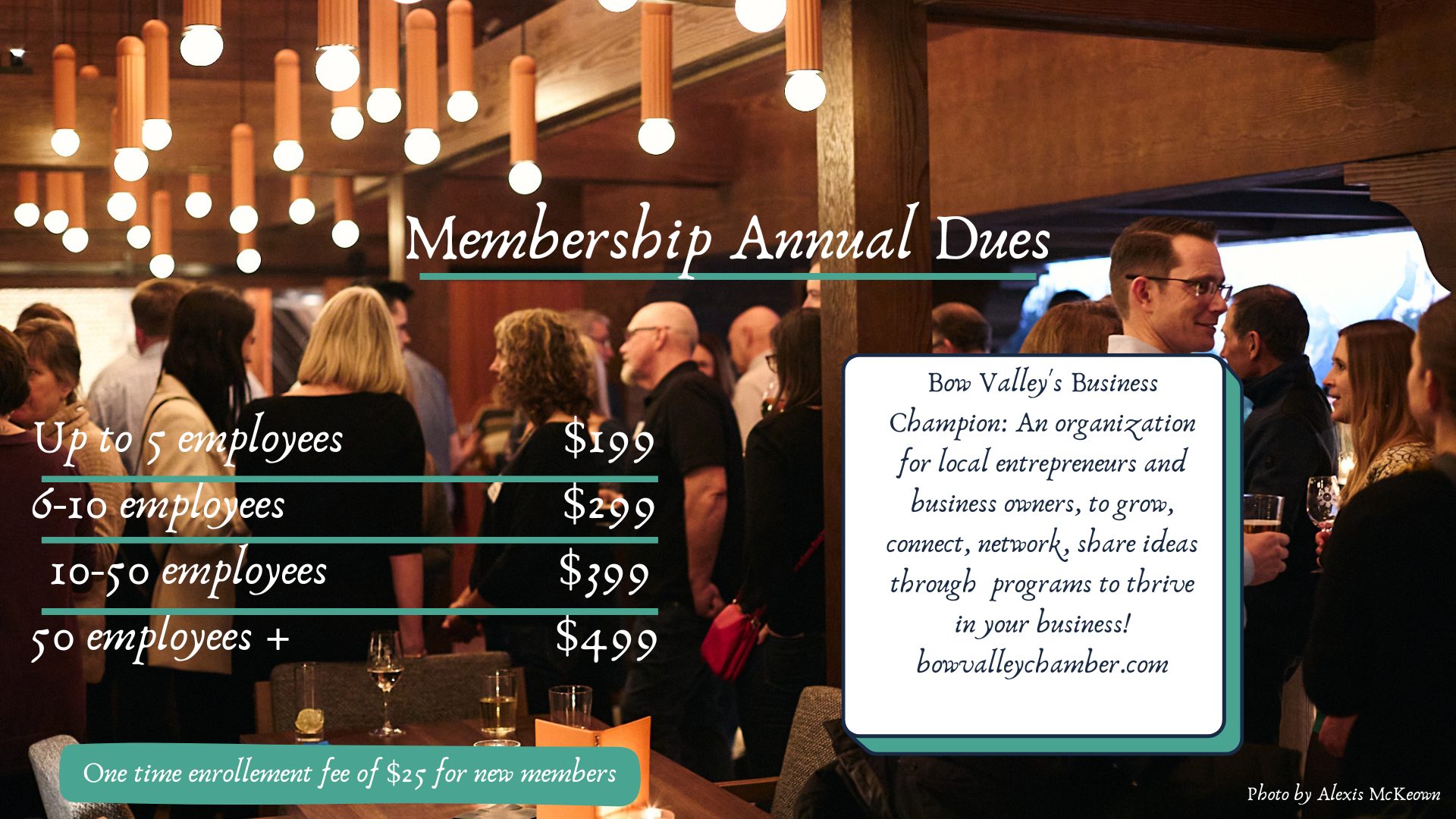 *A yearly affiliation fee of $13.10 (plus tax) is also applied to all BVCC memberships. This fee covers our Alberta Chambers of Commerce & the Canadian Chamber of Commerce membership dues.
*One-time enrollment fee of $25.00 (plus tax) for new members.
WHAT IS A CHAMBER OF COMMERCE?
A chamber of commerce is a non-profit, membership driven association that advocates on behalf of the business community in which it serves. In addition, it helps connect and grow the business community through a wide array of networking events, educational seminars, and member only programs and offerings.
Angela sees brand building as a contact sport - you've got to dare to be different and make an emotional impact with your audience to succeed.
A bold brand packs a punch, and as a certified brand strategist, kickboxing instructor, and former roller derby competitor, Angela can land a creative punch with style.
Angela is a strategic thinker who loves to help industry disruptors uncover the potential in their brand so they can gain clarity and forge an intentional path to growing a meaningful and profitable business.
In over 20 years in the creative sphere, Angela saw a recurring need to create more than just "pretty things" to help my clients succeed, and was fuelled by the desire to connect what she saw to be the missing dots between business objectives and creative outputs.
Having a clear plan for your brand does that by merging business goals, strategy, design, and marketing to connect to your dream client and drive your business forward.
Contact Angela at angela@beboldbranding.ca or Click here to visit Be Bold website.
Spend some time in nature with 5 Peaks Adventures.  5 Peaks events are more than just trail races, they are special celebrations of nature, of the hard work we put into our training, of strength, and of family and community.
Don't be intimidated. These runs are for everyone. They welcome all competitors, whether you're gunning to become a backcountry running champion or simply want to take on a new physical challenge, 5 Peaks is for you.
Catch 5 Peaks Adventures at the Canmore Nordic Centre June 10 & September 9, 2023!
Contact 5 Peaks Adventures directly houda@5peaks.com
Pixel Pumas Pro. are from Chilean Patagonia and moved to Canadian Rockies - they capture images with the strength and elegance of a puma.
They are a creative couple who are enthusiastic about following our dreams.
Life brought them together in the city where we met, Banff, and growing up as a couple we decided to combine our passions for photography and art to create Pixel Pumas Pro.
Everything they create study to see what the best way is to put together the perfect ingredients and thus achieve an image or video that exceeds the requirements of the project.
They constantly study to increase our level and we demand ourselves to the limit, to provide high-quality professional service and products where, in less than a year, they have become known in the Bow Valley as a benchmark in commercial photography.
They are reliable, motivated, and happy people.
Come and live the experience that only Pixel Pumas Pro can give.
They create a long-term relationship and therefore our images and videos will be your legacy in the future, they guarantee it.
Most recently they have launched a dream, an event in Banff Alberta on June 14, Banff Entrepreneur Conference 2023, click here to sign up and for details. 
​
Canadian Rockies Rafting has been rafting the rivers of Alberta and British Columbia since 1996. Having spent over 25 years getting to know every bend and bump in the Bow River and Kananaskis River, there isn't anybody as experienced as us - or as fun! Located less than one hour from Banff, Canmore, Calgary, and Kananaskis, we're committed to providing an affordable, safe, scenic, and unforgettable adventure for everyone.
The Malcolm Hotel is the first traditional hotel to be built in Canmore in the last 20 years. Situated between two natural-flowing creeks, it provides four-star service and hospitality to 124 well-appointed rooms and suites all with luxury amenities. Its ambiance and design reflect the pageantry, royalty, and heritage of the past Scottish King - Malcolm III, who is also known as Canmore's namesake.
Amenities include an elegant outdoor pool with panoramic views of the surrounding mountains from the second floor, an open-air mezzanine, and a Fitness Centre. Additionally, there are a 1,200 sq. ft. outdoor event space and a fine-dining restaurant and bar.
Ideal for conferences, weddings, and luxury getaways, the Malcolm is Canmore's Crown Jewel.
Gateway Association was founded in 1975 by a group of parents who wanted a "gateway to a better life" for their children with disabilities. Gateway's founding families advocated for inclusive schools, communities, and a more inclusive Alberta. Although Gateway has grown considerably, we maintain a grassroots spirit and a commitment to building a more inclusive world.
Gateway's Calgary office opened in June of 2020 and now includes Employment Services, Digital Literacy Program, and an Employer Resource Centre.