First and Second round of BVRF applications are now closed.
Please hold tight. Second round BVRF decisions will be available soon. We apologize for the delay. 
Thank you to all Bow Valley businesses that applied! 
The Bow Valley Restart Fund (BVRF) provides grants for local Bow Valley businesses that are facing unforeseen costs due to the sudden nature of the COVID-19 pandemic.
Bow Valley businesses are needing to restart, this includes restocking inventory, meeting new government requirements, hiring new staff, training, protective equipment, store modifications, and cleaning costs, all while having their occupancy allowances restricted, and travel and tourism restricted. The Bow Valley business community is facing the challenge of understanding a new economical landscape, what once was a global destination, is now a local and regional destination.
The BVRF is raised from contributions of those who find it important to help local Bow Valley businesses. Such as local associations like the BVCC, local municipalities such as the Town of Canmore, industry partnerships, and other contributors.
The purpose of this program is to assist where possible, given the unique nature of the economic environment. We intend to help as many Bow Valley businesses as possible based on the contributions we receive to help those who need it the most by awarding grants of up to $5,000.00.
The Bow Valley Chamber of Commerce, BOWDA, Town of Canmore, and CanSign Inc. have partnered to do what we do best... Provide support for local businesses! The #SupportLocalCanmore Campaign was initiated to generate a support local buzz for Summer and Autumn 2020. Initial public posts and content for the campaign will go out this week and follow through until early September.
Please follow the BVCC's Facebook and Instagram pages to view all campaign content and us the hashtags #SupportLocalCanmore & #BuyItInTheBow to participate!
Vision: A community where local people, not-for-profits, and businesses seek out and support other local businesses.
Mission: To build support for local businesses by educating, promoting what's available, and  encouraging the Canmore community to support local businesses. With a focus on promoting awareness of why it's important to #SupportLocalCanmore and #BuyItInTheBow, what is available in Canmore , and how Canmore businesses are working to keep their customers and businesses safe.
Small Business Week October 19-23, 2020 
Click HERE to check out all of the BVCC's Small Business Week Business Week events and programs!
Cheers To You & Entrepreneurship
The Bow Valley Chamber of Commerce (BVCC) is where Bow Valley entrepreneurs and businesses grow, network, and find the support needed to thrive and prosper. The BVCC's mission is to sustain a successful business community in the Bow Valley by Elevating, Connecting and Advocating for our members. A BVCC membership connects you and your business with nearly 300 other businesses spanning from Kananaskis to Lake Louise.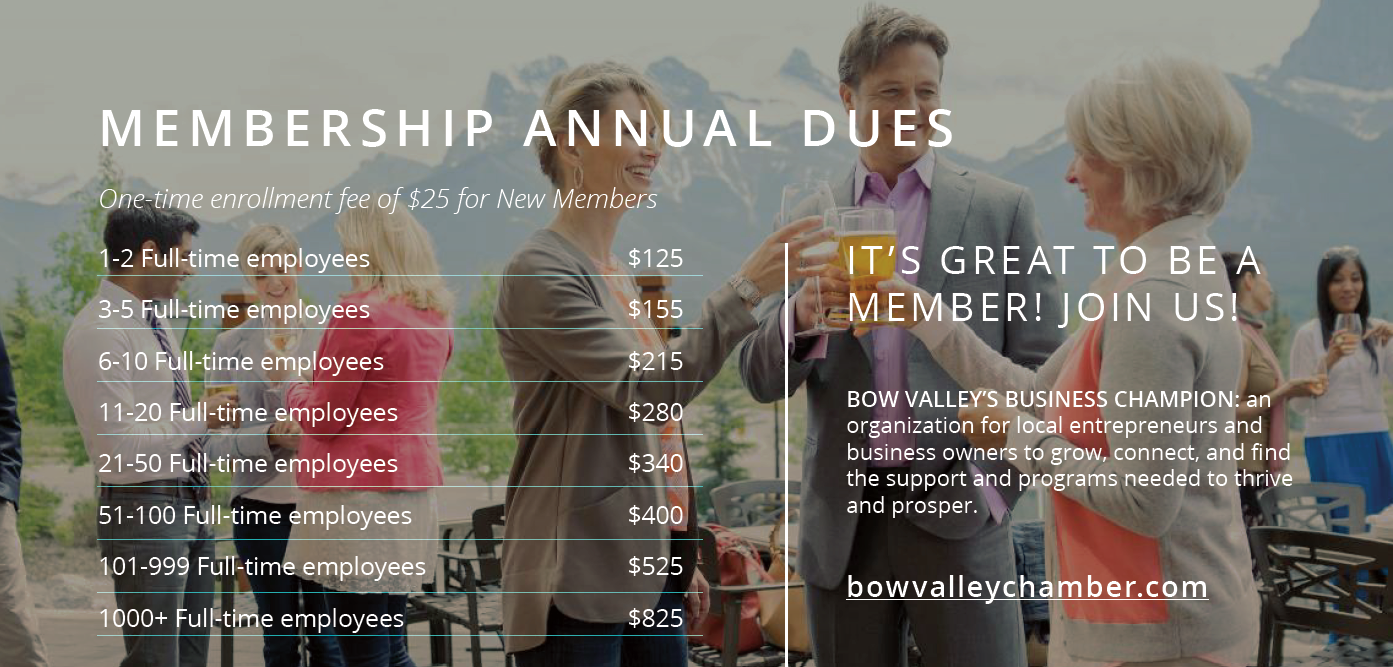 WHAT IS A CHAMBER OF COMMERCE?
A chamber of commerce is a non-profit, membership driven association that advocates on behalf of the business community in which it serves. In addition, it helps connect and grow the business community through a wide array of networking events, educational seminars, and member reward offerings.
In partnership with the Town of Canmore the Bow Valley Chamber of Commerce has initiated SMARTstart. An 8 month entrepreneurial program that focuses on online learning, seminars, and mentoring. Each entrepreneur comes away from the program with a plan they have created to set their business up for success. Applications closed on July 19, 2020 but we are still looking for TEACHERS to teach SMARTstart sessions.  Email us today at askus@bowvalleychamber.com to teach a class! 
The Suzie Q Dance Band has been providing professional musical entertainment in the Banff, Canmore, and Calgary areas since 1994. They perform a wide variety of pop, rock, and country music, and cater to various functions such as conferences, dances, weddings, special events, and more. The group is led by drummer/vocalist Jon Frolick and features lead vocalist and pianist Suzanne Morley, guitarist Brent Saklofske, Keith Day on keyboards, and bassist/vocalist Neil Bentley.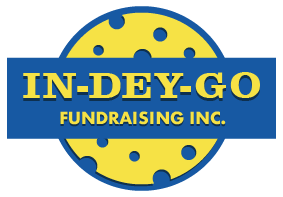 In-Dey-Go Fundraising
Since 1996, IN-DEY-GO Fundraising Inc. has provided unparalleled service while offering an extensive variety of Canadian-made products making it easy for schools and organizations across Canada to reach their fundraising goals. They take pride in knowing their quality products and excellent service provide a stress-free and profitable fundraising option for groups in need of raising money.
They understand your fundraising needs and have helped thousands of groups raise millions of dollars! The IN-DEY-GO Fundraising Team is here to support you every step of the way by providing the tools you need to run a successful fundraiser, free of charge.
The Bear Minimum is an organization of passionate volunteers and hard workers set out on a mission to promote a zero waste lifestyle.
They wish to help eliminate single use plastics in the Bow Valley.
Visit their store or join a workshop where they will give you the tools to get waste-less in the Bow Valley!
Since 2014 Mountain Mercantile has filled their main street ship with hand-made products by Canadian artisans, many of which speak to the mountain landscape that defines the Bow Valley. Mountain Mercantile sources their products from Canadian-run businesses that get most of their products right here in Canada. Mountain Mercantile is Canada's mountain lifestyle shop specializing in Clothing, home decor, jewelry, stationary, and apothecary.
Established in 1987, the Ammonite Factory is licensed to mine for the unique and rare ammolite gemstone.
The fossils are cleaned and prepared at their workshop in Canmore, Alberta. It is here that they also design and handcraft beautiful, high-quality ammolite jewelry.
The Ammonite Factory is also home to a retail store where they display their stunning jewelry, colorful art pieces and complete ammonite fossil specimens that are available for purchase.
It's Great To Be A Member
Get engaged as a recognized member of the business community.
Bow Valley Chamber of Commerce memberships connect you and your business with nearly 300 other businesses spanning from Kananaskis to Lake Louise.
Take advantage of member only events, offers, and benefits.