Join us for BVCC Business Book Club on May 19th, where we'll be talking about Leaders Eat Last by Simon Sinek
In his work with organizations around the world, Simon Sinek noticed that some teams trust each other so deeply that they would literally put their lives on the line for each other. Other teams, no matter what incentives are offered, are doomed to infighting, fragmentation and failure. Why?
The answer became clear during a conversation with a Marine Corps general. "Officers eat last," he said. Simon watched as the most junior Marines ate first while the most senior Marines took their place at the back of the line. What's symbolic in the chow hall is deadly serious on the battlefield: Great leaders sacrifice their own comfort–even their own survival–for the good of those in their care.
Too many workplaces are driven by cynicism, paranoia, and self-interest. But the best ones foster trust and cooperation because their leaders build what Simon calls a "Circle of Safety" that separates the security inside the team from the challenges outside.
Simon illustrates his ideas with fascinating true stories that range from the military to big business, from government to investment banking.

Want to #buyitinthebow? Purchase your book locally at Café Books for a 10% discount! Use "Bow Valley Chamber of Commerce Business Book Club" for discount in store. 10% discount only available for instore purchase at Café Books.
2021 Bow Valley Chamber Of Commerce Member Service And Growth Survey
As we reflect on the changes 2020 has brought upon the world, our country and each other, the Bow Valley Chamber of Commerce (BVCC) would like to make sure we continue to support Bow Valley businesses in a meaningful way. We want to strengthen our relationship with you and the value we deliver.
Our mission is to sustain a successful business community in the Bow Valley by elevating, connecting & advocating for our members. We have increasingly focused on serving Bow Valley businesses in additional ways. We want to maintain that momentum and accelerate it.
To do that, we have developed a quick 5 question 3 minute survey to capture your evolving business priorities as well as offerings that would make us more valuable to you as we look towards 2021 and beyond. In appreciation for completing this survey you will be entered into a draw to win a 2022 Membership & a 2021 BVCC Business Book Club Starter Pack. Thank you.
Support Local Bow Valley!
The Bow Valley Chamber of Commerce, BOWDA, Town of Canmore, and CanSign Inc. have partnered to do what we do best... Provide support for local businesses through prizes & contests, newspaper ads, and local business features! Please follow the BVCC's Facebook and Instagram pages to view all campaign content and us the hashtags #SupportLocalCanmore, #SupportLocalBanff, & #BuyItInTheBow to participate.
Check out Food For Friends! Local Bow Valley Businesses use a portion of their sales to purchase gift cards from Local Bow Valley Restaurants. These gift cards will be dropped off at the Bow Valley Food Bank, who will issue the gift cards to their Local Clients as part of its regular food hamper program.
The BVCC is extremely proud to have administered the Bow Valley Restart Fund (BVRF). The BVRF provided grants of up to $5,000 to local Bow Valley businesses that had faced unforeseen costs due to the sudden nature of the COVID-19 pandemic. In partnership with the Town of Canmore we were able to distribute $107,725 to financially aid Bow Valley businesses.
SMARTstart requires enthusiastic and experienced business owners!
SMARTstart is your chance to share your wisdom, business expertise and lessons learned with entrepreneurs who are just getting into the game.
Mentorship is an opportunity for experienced business owners to give back to a new or soon-to-be business owner. The goal is to increase the likelihood of success for local aspiring entrepreneurs by providing mentoring and guidance over an 8-month timeframe.
Cheers To You & Entrepreneurship
The Bow Valley Chamber of Commerce (BVCC) is where Bow Valley entrepreneurs and businesses grow, network, and find the support needed to thrive and prosper. The BVCC's mission is to sustain a successful business community in the Bow Valley by Elevating, Connecting and Advocating for our members. A BVCC membership connects you and your business with nearly 300 other businesses spanning from Kananaskis to Lake Louise.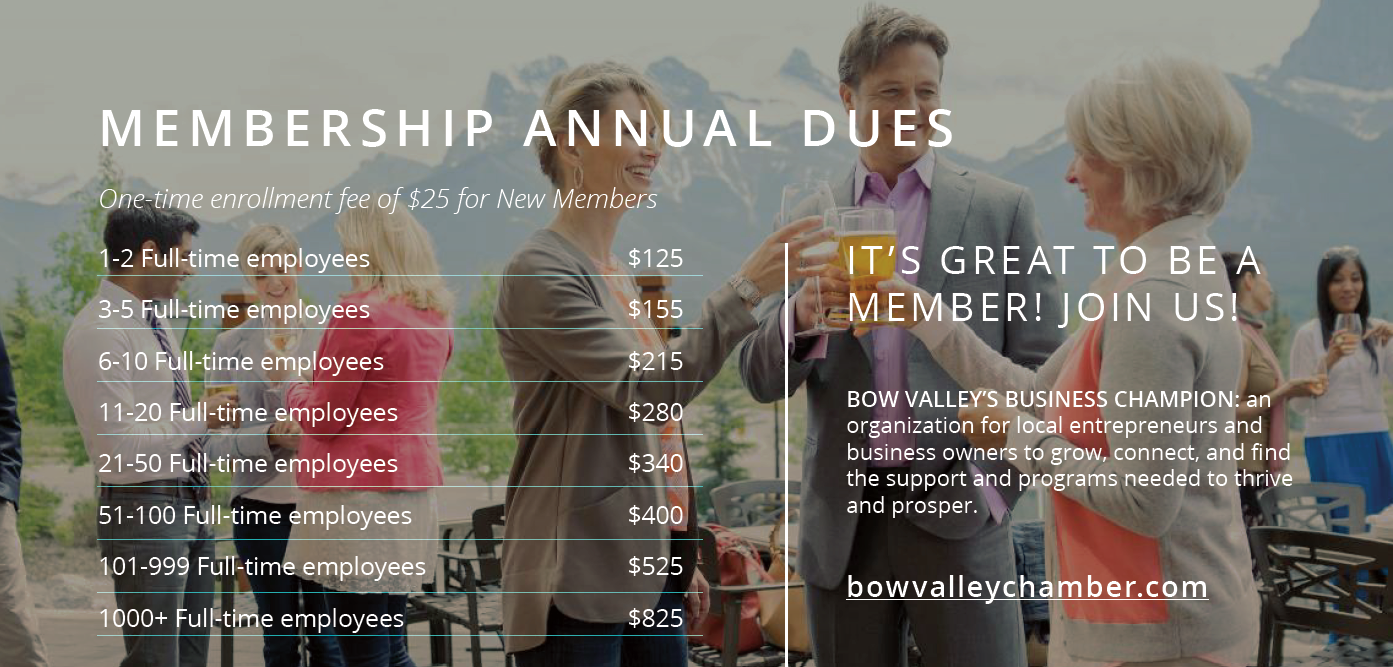 *A yearly affiliation fee of $13.10 (plus tax) is also applied to all BVCC memberships. This fee covers our Alberta Chambers of Commerce & the Canadian Chamber of Commerce membership dues.
*All BVCC membership fees are prorated according to month of membership application.
*One-time enrollment fee of $25.00 (plus tax) for new members.
WHAT IS A CHAMBER OF COMMERCE?
A chamber of commerce is a non-profit, membership driven association that advocates on behalf of the business community in which it serves. In addition, it helps connect and grow the business community through a wide array of networking events, educational seminars, and member reward offerings.
Lovely Ice Cream offers locally made small batch ice cream. Producing joy in pints, cookie sandwiches and cup. These artisan treats are made with real food and they find local ingredients to elevate into ice cream!
Visit https://www.lovelyicecream.ca/home/ for info on flavors, quick orders, and pick up / delivery options!
Established in 1994, Arnica Massage Therapy is located in Canmore, Alberta and operated by Patricia Roozendaal, Registered Massage Therapist.  With over 20 years of experience in the field of massage therapy and being active in many of the sports common to the Canmore community, Patricia has the skill and knowledge to treat your injury.
The Canmore clinic provides therapeutic massage in a safe, comfortable, and relaxing environment.  Operating hours are flexible, so please call or e-mail to book an appointment.
Click HERE to Contact Patricia at Arnica Massage Therapy Today! 
People from around the world come to Canada for many reasons in the pursuit of a betterment for their families and themselves.  Whether it be touring explorations, working holidays, to escape strife and conflict, to escape persecution, pursue business opportunities, enhance education, to re-unite as a family, or just to enjoy a better life. Russell Immigration Services' goal is to help make those plans reality. Russell Immigration Services can help with : Working holiday, Permanent residency, Family Reunification, Refugee claims, Citizenship applications and much more!
Contact Russell Immigration Services today at 403-447-HOME (4663) or admin@russellimmigration.ca
Canmore Paint & Interiors offers high quality products and services and ensure to provide the colour, style and value your project needs. Their staff will make every effort to "get it right the first time" and understand the importance of consistency for any project – both commercial or residential.
Canmore Paint & Interiors understands the importance of your home to you and your family and they will make every effort to ensure we offer high quality products that not only beautify your home but protect it as well. From interior paints to exterior stains and from roller shades to wood blinds – home renovations are easier when you know you're in the right store.
Contact Canmore Paint & Interiors today at Unit 1-906 Bow Valley Trail or news@bmcanmore.com
Perch Communications is a boutique storytelling and communications company. They are passionate about helping small businesses and non-profits find their authentic brand story and amplify their voice. ​At Perch Communications they pride themselves on delivering the highest quality service and the best results. Perch Communications specializes on brand strategy, communications & content strategy,
media & public relations, writing & editing.
Contact Jenny from Perch Communications at 403-431-0261 or jenny@perchcommunications.com