Bow Valley Chamber of Commerce Board of Directors
The Bow Valley Chamber of Commerce Board of Directors are dedicated volunteers that are 100% focused on you and your business! The BVCC board of directors works tirelessly on providing many initiatives to aid and support Bow Valley businesses. The BVCC continues to go above and beyond for Bow Valley businesses and we are committed to offering more valuable programs and services for BVCC members.
Ben Davis 
President as of March 17, 2021 - 1st Term as President 2nd Term on Board
Ben is a Senior Relationship Manager with the Bank of Montreal and covers the Bow Valley in a Commercial capacity. He has over a decade of commercial banking experience and was formerly a small business owner with his brother. He therefore has a unique perspective when interacting with members and clients as he can empathise with the challenges that running your own business brings. Ben is originally from the UK, with Bristol being his hometown. He and his wife (Michelle) moved to the Bow Valley in 2015 and are both very happy to call the mountains "Home".
Aaron MoQuin
Vice President - As of March 23, 2022 - 1st Term
Aaron is a key member of the WesternTrust Hospitality collection, where he helps oversee North American operations of their 7 markets.
Originally from the small town of Terrace Bay Ontario, he worked primarily in Thunder Bay before moving out to Whistler BC to try something new.  Past work experience includes senior leadership roles in call centers, retail, and food service.
Previous volunteer board experience with running a not-for-profit museum just outside Thunder Bay, and also with both the local Jr B Hockey Club and the Terrace Bay Figure Skating Club.
Relocated to Canmore in October of 2020 to start a new market for WesternTrust and have since joined the head office team and travel to assist in the various markets.
The Bow Valley Chamber of Commerce is important to Aaron as it is the best way to connect local businesses with each other and a wealth of information to support growth, networking and development and advocacy for the Bow Valley.
Aaron is passionate about our community and excited to meet each business owner and learn how best to advocate for their needs and wants.
Karen Wiwchar 
Secretary - As of March 23, 2022 - 1st Term
Karen is a partner at Blackett Law LLP in Canmore. As a business lawyer, she has worked both in private practice and in-house with a broad range of corporations and organizations for over 35 years, helping businesses to protect their interests and facilitate sound business practices and relationships. She earned her professional corporate director designation (ICD.D) in 2010 and has held leadership roles in business, regulatory and not-for-profit organizations. Originally from Calgary (with deep roots in Saskatchewan), Karen has been delighted to transition to Canmore together with her husband, Mac, and is excited to be working to support and grow Bow Valley businesses.
Michelle Gurney
BPA, ABC, Principal Shift Consulting Inc.
Board member - 2020 - 2nd Term
For more than 20 years Michelle has worked with a variety of major companies and organizations to create awareness of their programs, build understanding around issues and promote their wares. Her proven strategic planning, media handling, exceptional writing skills, and boundless energy have helped her develop innovative and integrated marketing and communications solutions that deliver solid results for clients. In addition to leading the consulting team at Shift Consulting Inc. for the past 10 years, Michelle is a professional facilitator who delivers a range of leadership training programs.
Prior to launching Shift, Michelle led the Marketing and Communications team at the Town of Banff. Working for one of the biggest brands in the world proved to be a thrilling experience, and she drew heavily upon her earlier career experiences, particularly her four-year tenure as Account Director for Canada's number one strategic advertising agency.
Michelle is also a published author, travel writer, and part-time adventure seeker.
Mahesh Kavia 
Board member - 2020 - 2nd Term
Founder of Kavia Fine Jewellers inc. and GetintheLoop Canmore, Banff area.
Mahesh is a  visionary  & innovative thought provoker here to make a positive change.
Bronze sponsor at The Alberta Winter Games in 2014
Canmore is now home and is proud to be a part of this community of giving back.
Jonathan Welsh 
Board Member - 2022 - 1st Term
Originally from Lancashire UK, with a Bachelor of Science in Management & Systems from City University. Jonathan travelled to Banff to live the dream of working a ski season after graduation. When his student work visa ran out he returned to the UK to complete his immigration papers so he could get back to the Canadian Rockies.
Upon his return, Jonathan worked at Lake Louise Ski School for a further 5 years where he obtained his Level 3 Ski instructor certification. He then became a representative for a number of British ski wholesalers looking after their holiday needs during the winter and worked as a guide for local DMC companies in the summer. During this time he noticed an opportunity in the marketplace... no one was offering sightseeing tours during the winter! So he leased a 24 passenger bus, got a cell phone and a credit card machine. Jonathan's girlfriend, now wife, was the first guide and Discover Banff Tours was born, offering Banff Tours to guests of Banff. This was 1999.
During the next 20 years Jonathan and his wife grew Discover Banff Tours to Banff's largest tour company. Over the years opportunities for expansion presented themselves and with partners they purchased Chinook Rafting, Banff Trail Riders, and started the audio guide tour company GyPSy Guide. More recently together with SunDog Tours in Jasper, Discover Banff Tours purchased Landsea Tours as well.
Jonathan lives in Banff, Alberta where he now resides with his wife and 2 children.
Tracy Little
Board Member - 2022 - 1st Term
Tracy Little is an award winning Chef and budding entrepreneur in Canmore.  Owner of Sauvage restaurant and the playful Anger Management Collective, she found her niche in business that supports her community.
A Red Seal Chef and a registered Power Engineer, she strives to be the best in her field, but values the little things in life more than anything else.  She moved to the Bow Valley 10 years ago, and has a deep sense of belonging to the area.  She views her position on the Bow Valley Chamber of Commerce as an excellent opportunity to represent young entrepreneurs, and women, in the area.
Ibrahim Mohamed
Board Member - 2022 - 1st Term
Ibrahim is a Business Account Manager with RBC in the Bow Valley, with experience working in industries ranging from Financial Institutions Commercial Real Estate, Customer Service, Retail, and Hospitality. Ibrahim is passionate about tackling financial business problems that hinder business owners from getting to their dreams, having experienced that personally, he places this passion through his work and volunteer with the Bow Valley Chamber of Commerce.
Nothing brings him more satisfaction than meeting new people, developing new relationships, solving problems, contributing to the overall growth of the business, and giving back to the community. He is both a city and mountain dweller, who loves to travel, partake in outdoor activities, and find new adventures along the way. Always happy to have a conversation, connect over a story, or discuss people's passions.
Jade Ansley 
Board Member - 2022 - 1st Term
Jade Ansley is the director of Canmore-based atelier, PROJECT A, established in 2017. Her work there has supported the careers of hundreds of emerging visual artists. Born and raised in the Bow Valley, Jade has volunteered for many local organizations and events including The Canmore Rotary Club, artsPlace, The YWCA's VINEart Gala, Pine Tree Players, and now as a board member for the Bow Valley Chamber of Commerce.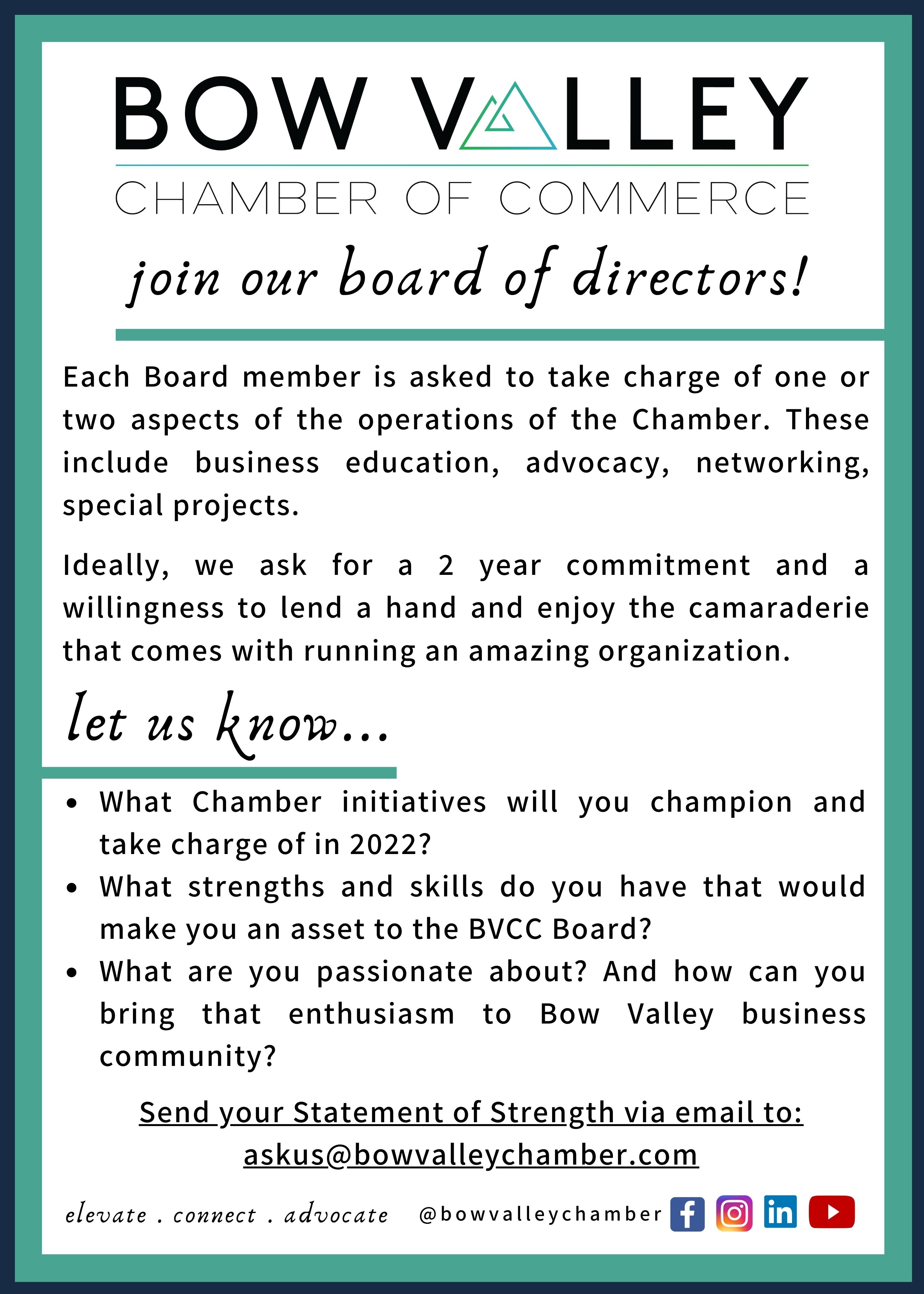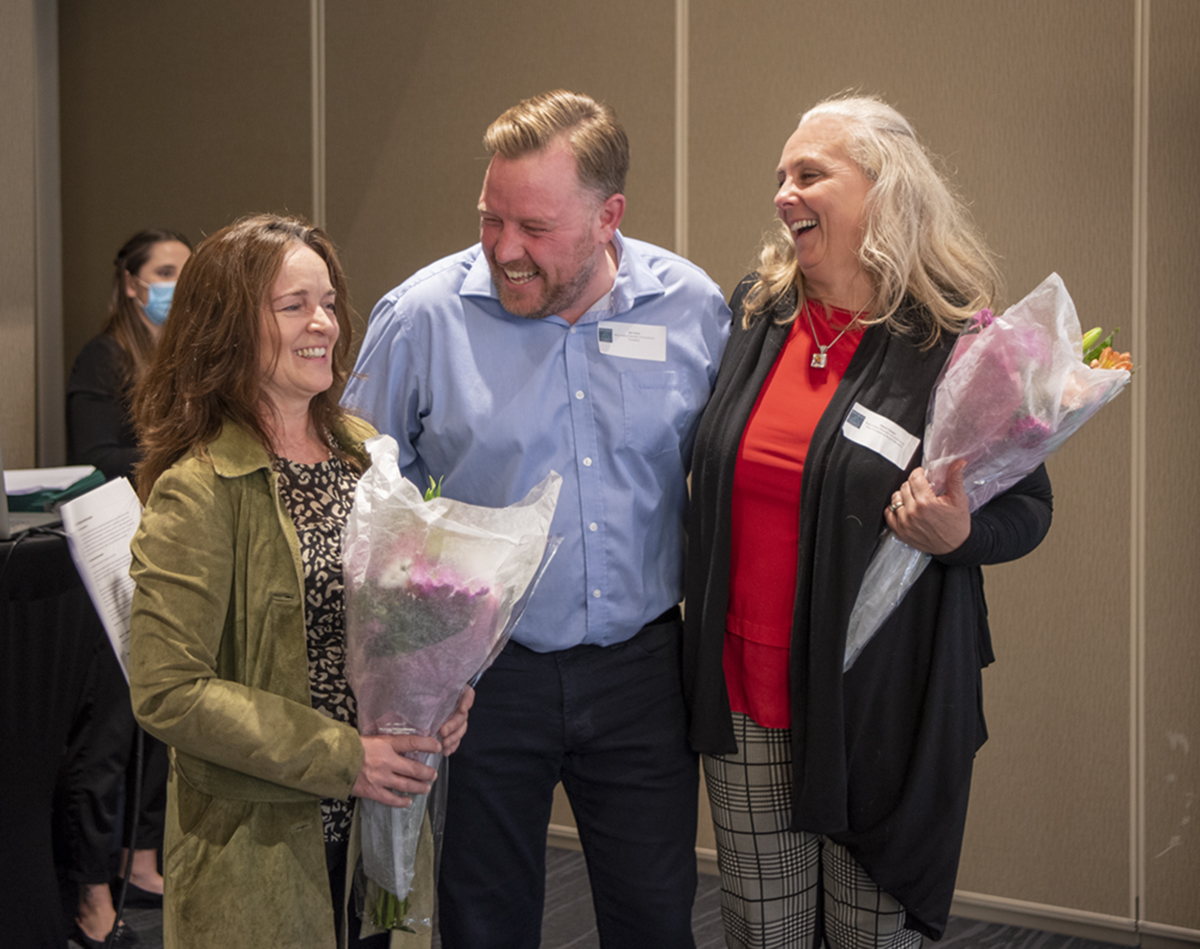 Natalie Kelly (Past Treasurer), Ben Davis (President), Cheryl Cooper (Past President) at the BVCC 2021 AGM and Business Excellence Awards Ceremony held March 23, 2022.
BVCC Board Info:
BVCC Board meetings are consistently held on the 2nd Monday of every month excluding July, August and December.
The BVCC Board of Directors must have minimum of 5 and max of 9 board members.
Board meeting attendance and minutes are available to the BVCC membership. Please contact us if you would like to attend or view minutes.
At any meeting of the Board, 50% of the Directors plus one shall form a quorum for the transaction of business.
BVCC board member term length is 2 years with an option to renew for another 2 years. After 4 consecutive years have been served the board member must step down for at least 1 year before joining the board again if they wish to do so.
ALL BVCC board members must have a membership in good standing of the BVCC.